Classmate News
Early Winter 2016
Jean Loemker Read has done it again, receiving the Patient Care Volunteer of the Year award, this time from Hospice of Huntington (see photo below). In 2011 she was designated Hospice Volunteer of the Year in the state of West Virginia. She also continues to make prayer shawls for Hospice. We are sure those patients under her care feel fortunate to have her.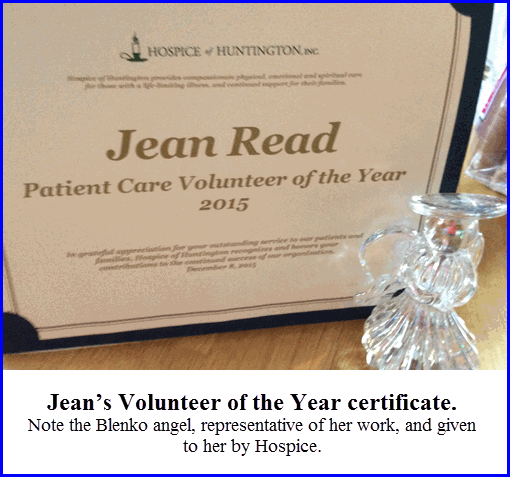 __________
[We send our warmest wishes for happy holidays, and may the New Year be good to you all!]
Your classmates enjoy hearing from you! Please send your news, photos, and videos to: Bill at w.sherertz@frontier.com or Mary Jo at dan.jo1@verizon.net
Mary Jo and Bill
---
Fall 2015
Bill Grimes has shared with us a poem and painting that he completed and dedicated to one of his patients – a young mother – on the occasion of her recent death.
"Dawn"
Winter's dark night has yielded.
Victory now in hand,
Sun sends forth his herald,
Light courses o'er the land.
While leaping tree to tree,
"Behold, our sun draws near!"
In silence, light's decree
For all who see may hear.
William Grimes
July 28, 2015
In memory of a gentle, courageous patient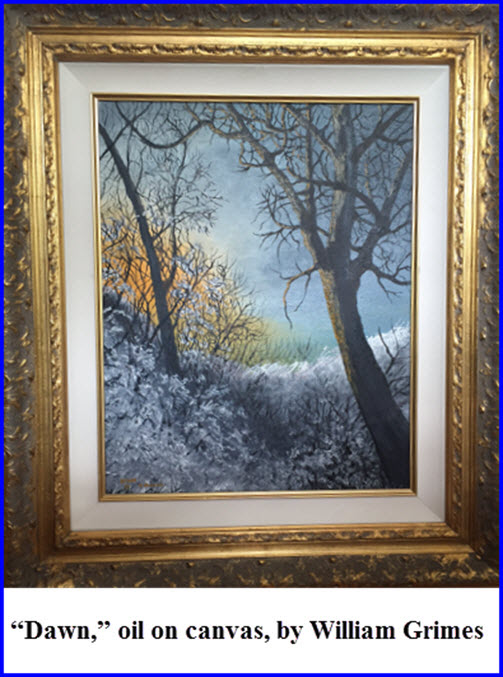 __________
Bill and Nancy Sherertz announce the arrival of their first grandchild. On May 04, 2015, their daughter, Sarah Sherertz-Vogt, gave birth to William Arley Vogt, named after his two grandfathers. Bill writes, Nancy and I are thrilled to be grandparents. Mea culpa, you know how it goes, but "Would you like to see pictures of my grandchild?"
Below, we share two with you.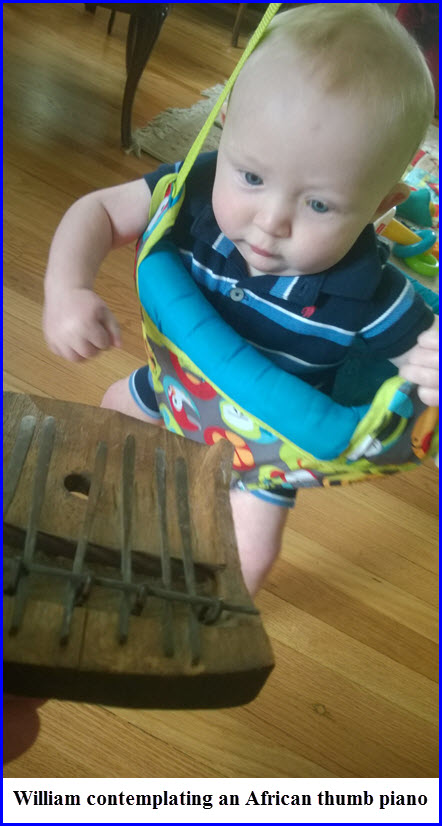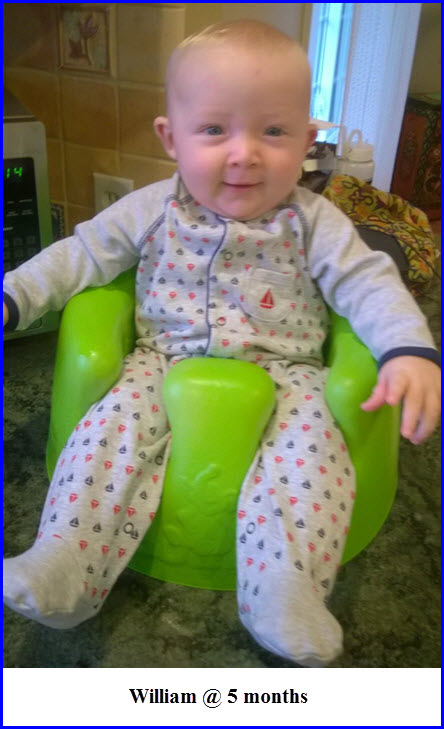 __________
Jean Loemker Read just returned from a week-long trip where she visited her daughter Elizabeth and her family in northern Virginia, her sister, Mary Margaret, in Bowie, Maryland, and met up with Emory University friends in Washington, DC. She enjoyed her grandchildren's softball games and visiting with family. In Washington, she and Emory friends, who stayed at an Airbnb home, attended a jazz concert by a young Russian pianist, dined at an Afghan restaurant, toured the Newseum (www.newseum.org) -- a museum devoted to news -- and enjoyed the Vermeer exhibit at the National Gallery of Art. Jean said she packed a lot into one week but that a great time was had by all.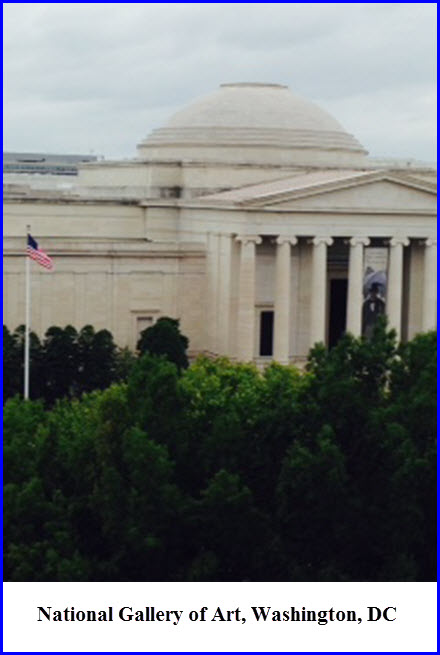 __________
[We send greetings to all for a happy fall. May you enjoy the beauty of this gentle, colorful season.
It is always good to hear from you. Please send your news (including photos and videos) to: Bill at w.sherertz@frontier.com or Mary Jo at dan.jo1@verizon.net]
Mary Jo and Bill
---
Summer 2015
In March, Bill Grimes and his wife, Janet, took their daughter and son-in-law, Carey and Jason, and grandsons Kyle and Coby, to New York City. Bill said, We did all the typical tourist things. We met up with our daughter-in-law, Anne-Lise, for lunch at a restaurant in Little Italy, and later she treated us to dinner at her apartment.
Proud grandfather, Bill, writes, Kyle and Coby are two exceptional young men. Both are honor students and are quiet, respectful, and talented gentlemen.
Over the Memorial Day weekend, Bill, Janet, and friends drove to Indiana for the Indy Racing League, Indy 500. There they also visited the Indianapolis Motor Speedway Hall of Fame Museum and race track. Bill explained, I am not a stick and ball kind of guy. Racing is my sport. You can place all the professional baseball stadiums inside the Indianapolis Motor Speedway and still have room to spare. Over four-hundred thousand attend, and I have attended races there since 1964. Bill confided that he once drove a Corvette with a 454 cubic-inch engine that got 4 miles to the gallon and registered 190 mph. I didn't get caught, he confessed.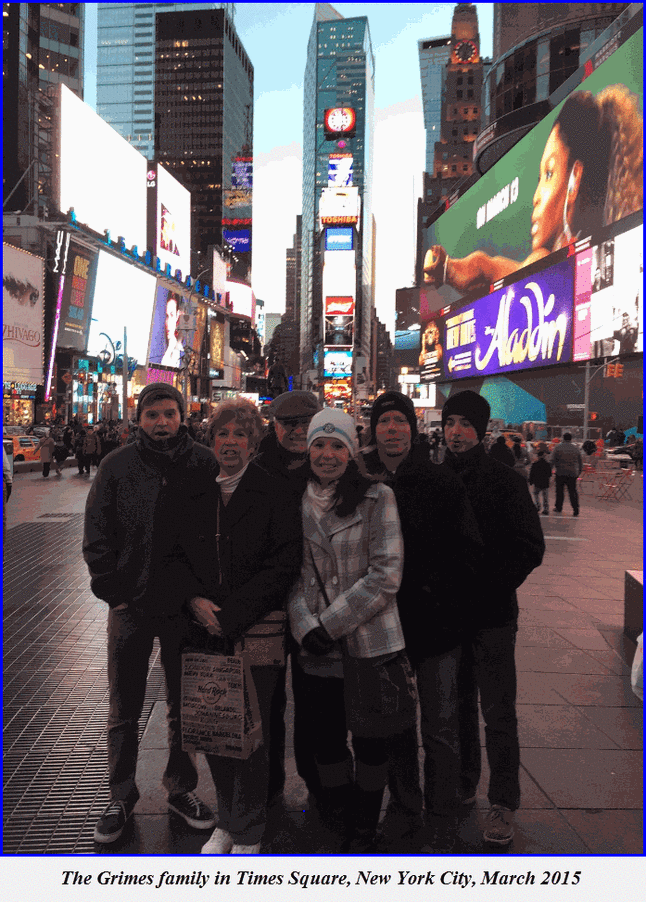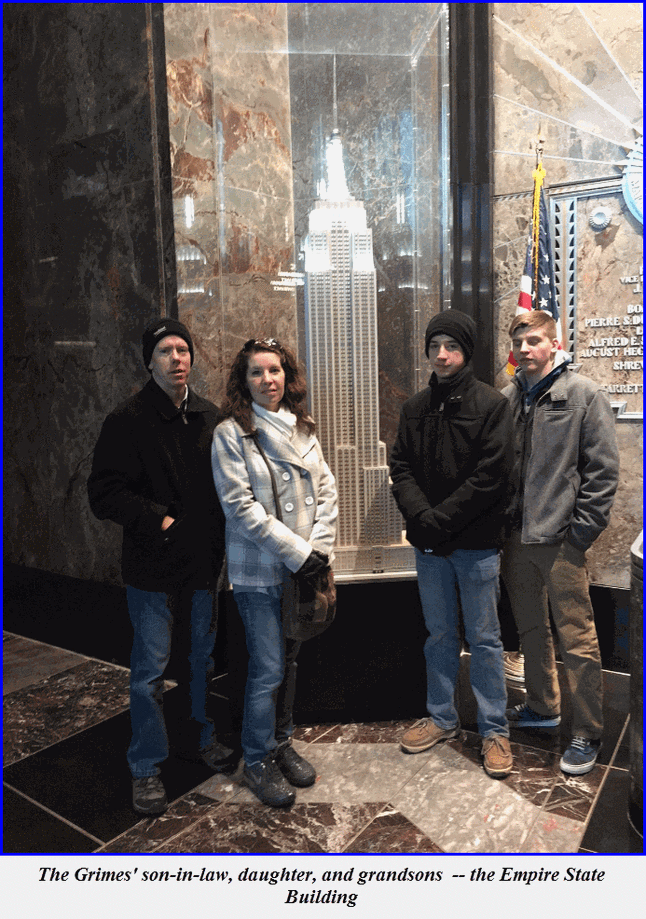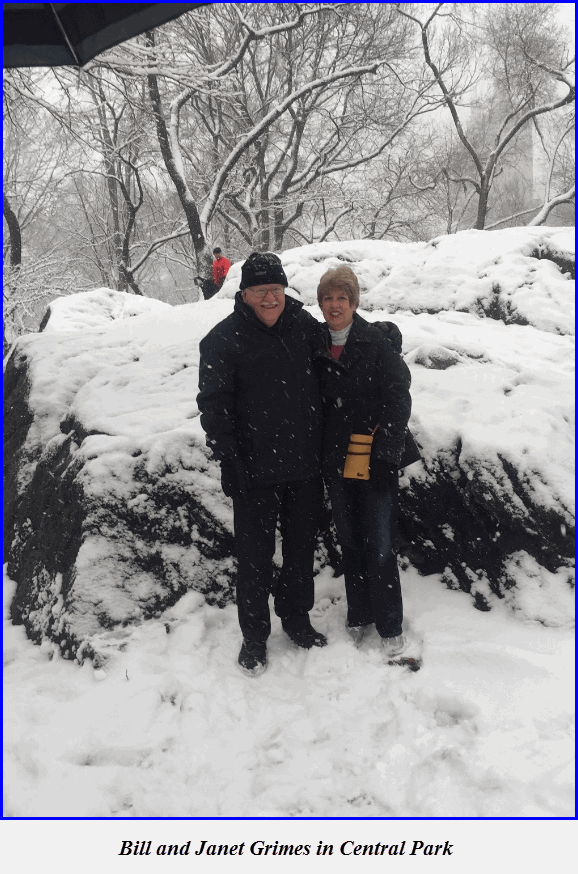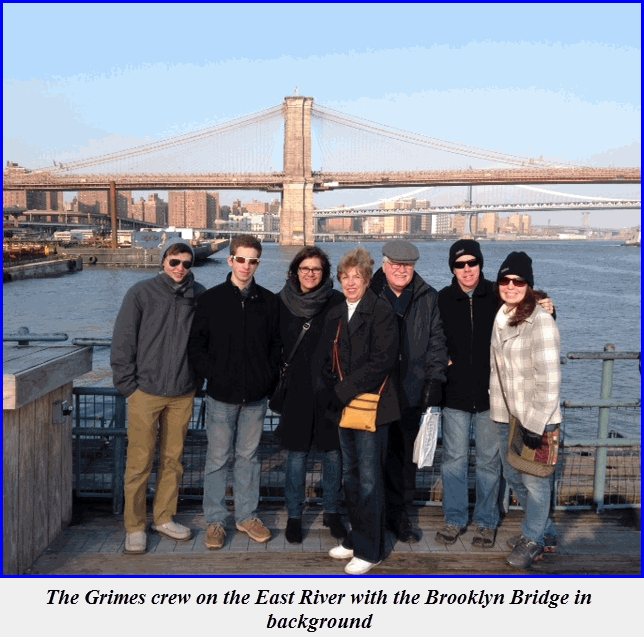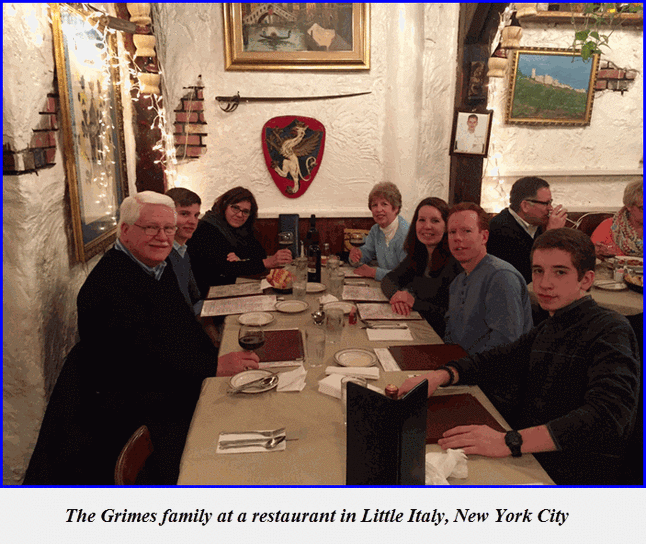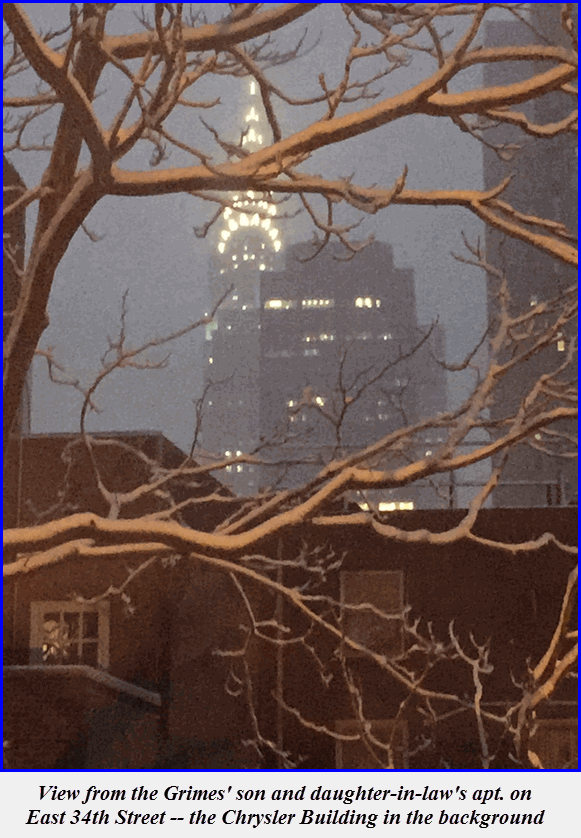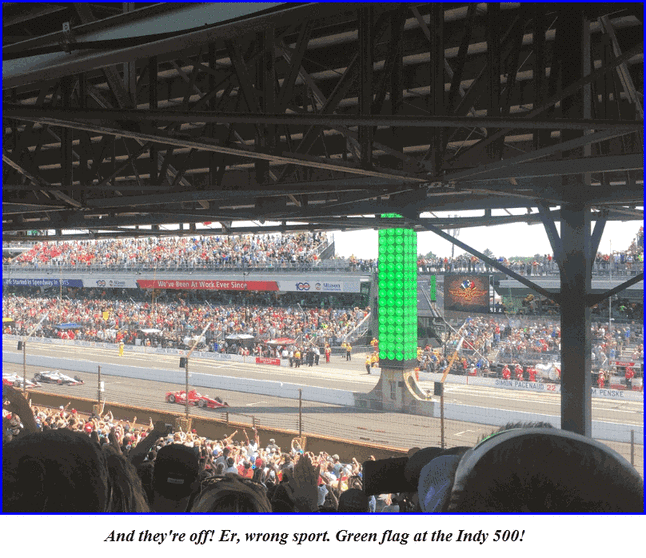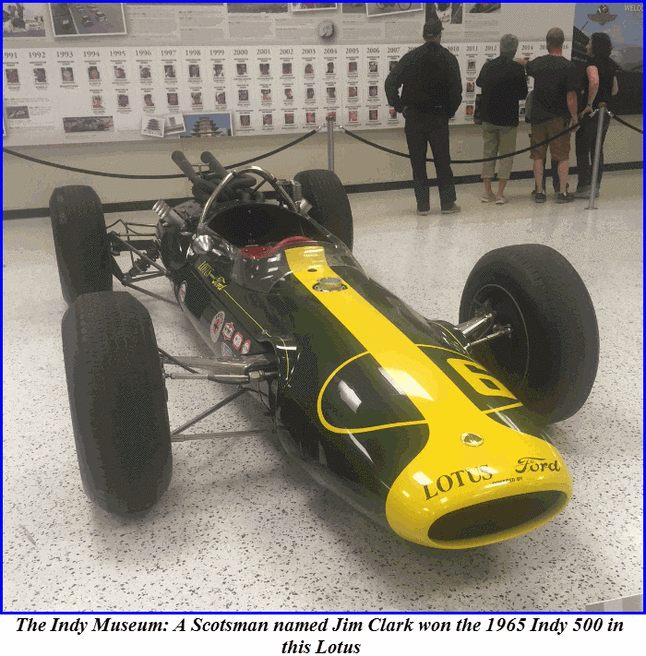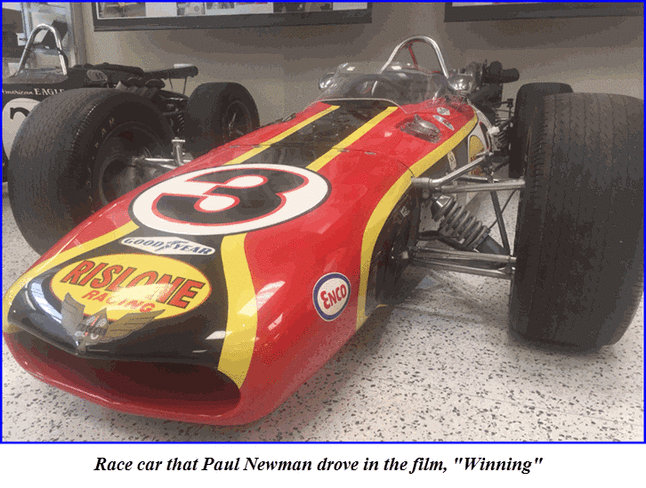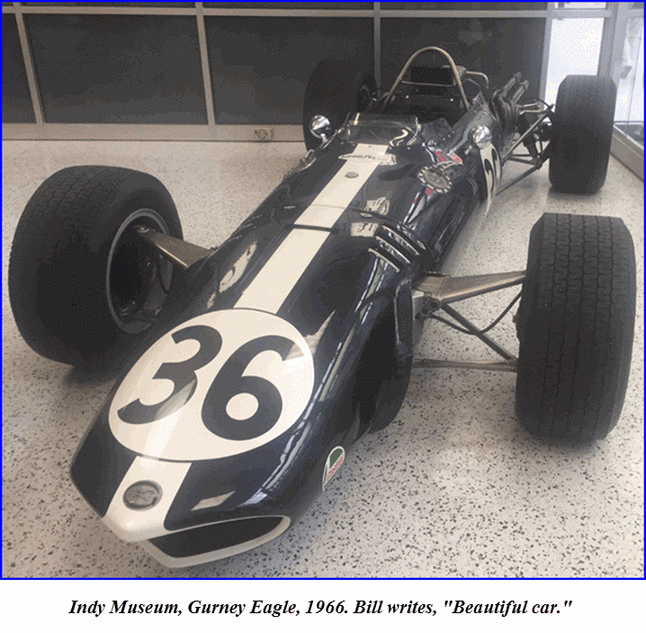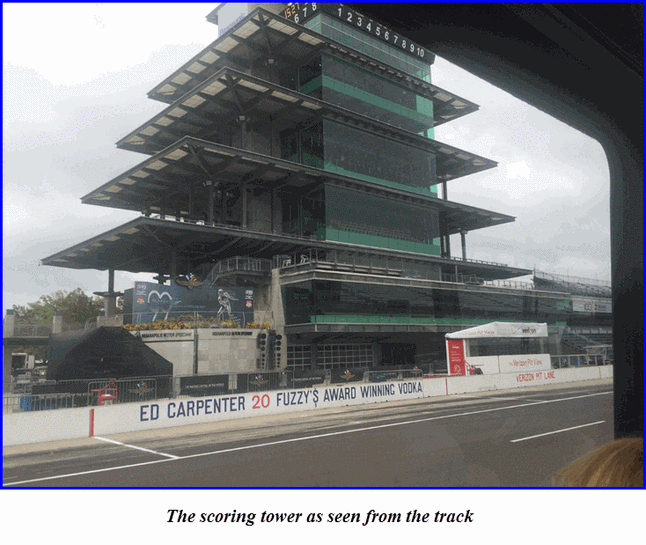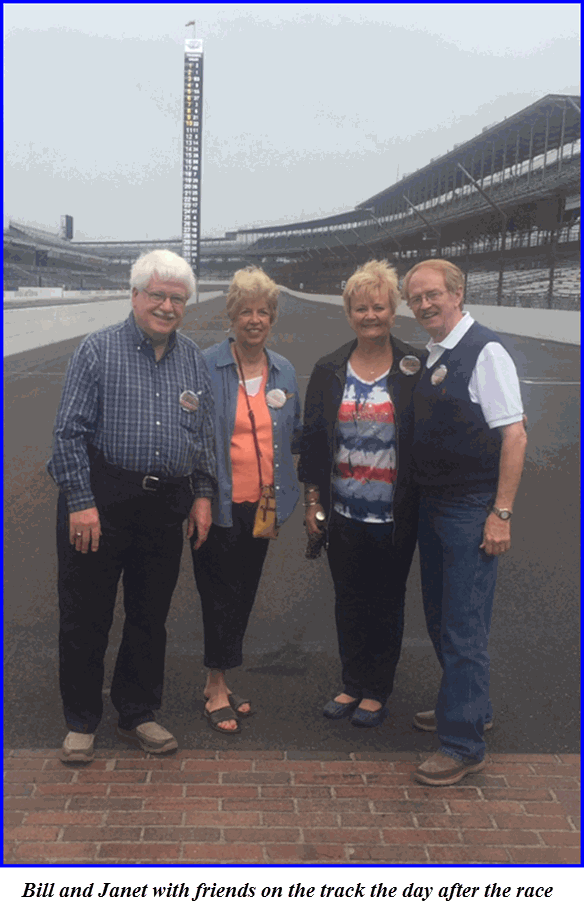 [It is always good to hear from you. Please send your news (including photos and videos) to: Bill at w.sherertz@frontier.com or Mary Jo at dan.jo1@verizon.net]
Mary Jo and Bill
---
Spring 2015

Having celebrated birthday 71 in February, Bill Grimes writes, We are taking our daughter and her family on a whirlwind trip to New York. Her two boys, scholars each, have mapped out their desired destination in the Big Apple. The trip will be one, compressed, madcap romp.
Planning to travel to England and France in June, Bill said, I am also writing a book about my ghostly office and have promised a painting for a charity art auction for a local animal shelter, so our schedule is filling up.
[Happy trails, Bill and Janet!]
It is always good to hear from you. Please send your news (including photos and videos) to: Bill at w.sherertz@frontier.com or Mary Jo at dan.jo1@verizon.net
Mary Jo and Bill
---
February 2015
About her milestone birthday, Jenny Nagle Davidson writes: On January 3, I was proud to bring up the rear of our parade of 70th birthdays. I celebrated by having my daughter, Kate (the blonde-since-birth in the photo), and her partner, Courtney, visit from Louisville, attending the nationally-ranked University of Nebraska women's basketball game together (see photos below) and holding an open house for friends.
When asked about her thoughts on turning 70, Jenny said, I likened it to a climb up a mountain with a beautiful panoramic view at the top. The two months before my birthday – the last two being 69 – were tough. I'd read somewhere that those birthdays with the "9" in them are usually difficult – 29, 39, 49, etc. – when we're thinking of moving into a new decade. I found this one particularly problematic. I talked with some friends who are already in their seventies and found they'd experienced the same feelings, thinking about where they'd live when they could no longer take care of themselves, feeling the crunch of time and wanting to use their days wisely. The conversations were immensely helpful, knowing that what I was going through was fairly typical.
Once I woke up on January 3, it was a whole new day. I felt I had reached the top of the next mountain on my journey, there was nothing but clear skies and inviting paths ahead, and I was ready to go! I've not looked back, having been to the Atlantic and Pacific coasts this month. Last week Jean Loemker Read and I spent five days in San Diego celebrating our birthdays. I'll complete a two-year spirituality program in Asheville, NC in March and have put down money for a trip to Australia, New Zealand and Tasmania in 2016.
I'm hoping to see lots of our classmates at the all-school lab school reunion in June 2016!
My daughter-in-law, Courtney, has a dear friend who's 94. Recently she told Court to tell me that her seventies were her favorite decade. I can imagine it's going to be that way for me, too!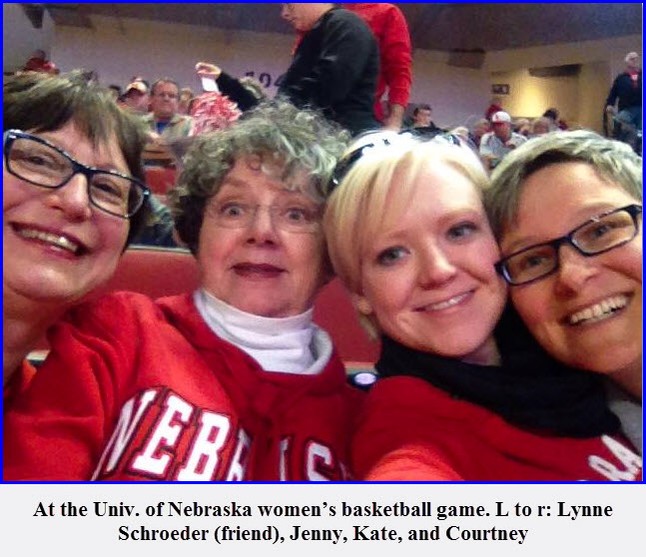 [Happy 70th, Jenny! May you have many more panoramas.]
It is always good to hear from you. Please send your news (including photos and videos) to: Bill at w.sherertz@frontier.com or Mary Jo at dan.jo1@verizon.net
Mary Jo and Bill
---
January 2015
On December 14, 2014, Doug Mann and his wife, Lorrie, hosted Virginia's Blue Ridge Music Festival holiday party where donors and sponsors of the Floyd (VA)-based festival were recognized for their support. The festival has formed a unique mentoring program that brings together classical music professionals and academy students for chamber ensemble and orchestral performances each spring.
The holiday celebration included an elegant buffet and classical music performances in the Manns' Meadows of Dan, Virginia home (see photos below). Doug writes, Lorrie's son, Zachary Groff, an internationally-known professional whistler, as well as a highly-trained classical pianist, performed for two hours at the piano where he was joined by a violinist and vocalist.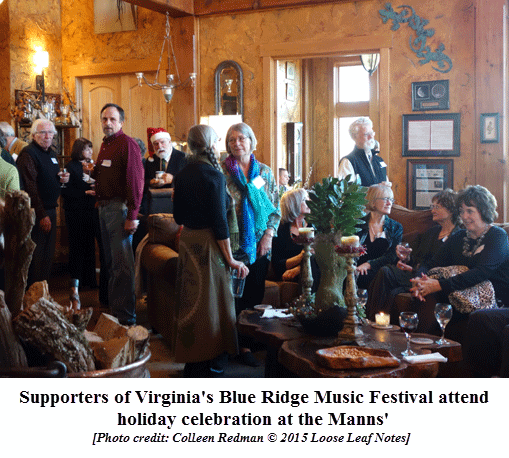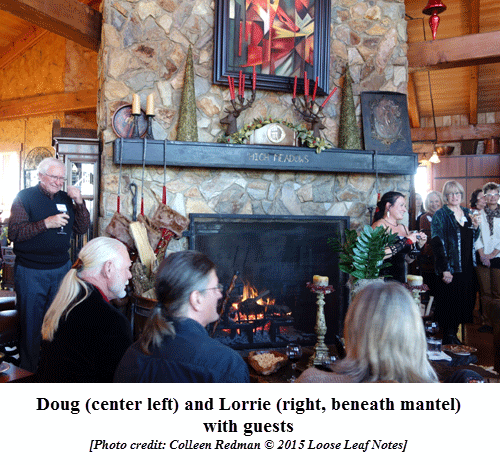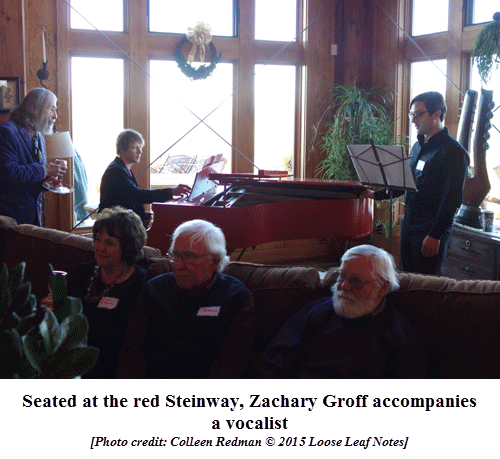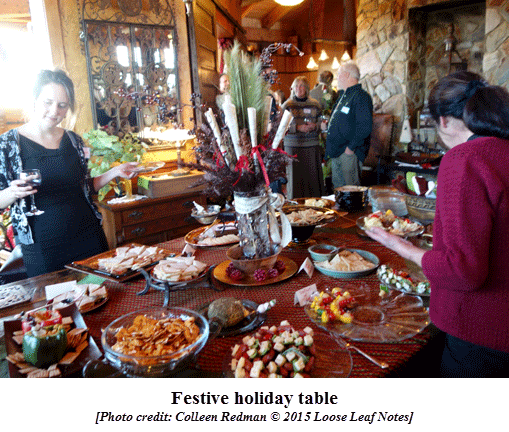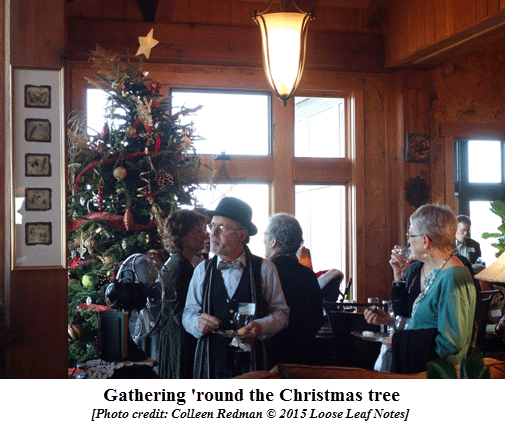 [We say cheers to festive occasions, beautiful music, and those who support it!]
---
Jean Loemker Read celebrated her special milestone birthday on December 24th while spending the holidays in Apex, North Carolina with her younger daughter and son-in-law, Kathy and John Collison, and two granddaughters, Sarah and Julia. Jean shared with us that, although her birthday occurs on the day before Christmas, her parents always made sure her day was a special one, and that her daughter continues this tradition. Jean's day began at one of her favorite breakfast places, Cracker Barrel (see photo below). She said, Later, Kathy wanted to do something milestone-y, but we opted for a family dinner at home, which was great. Kathy prepared some of my favorites: fresh asparagus wrapped in bacon, followed by salmon and cheesecake. Oh yes, ahem, I had a single candle.
Asked to reflect on what her 70th means to her, Jean said, I don't even think about it. I still feel the same and believe, as they say, you're as young as you feel.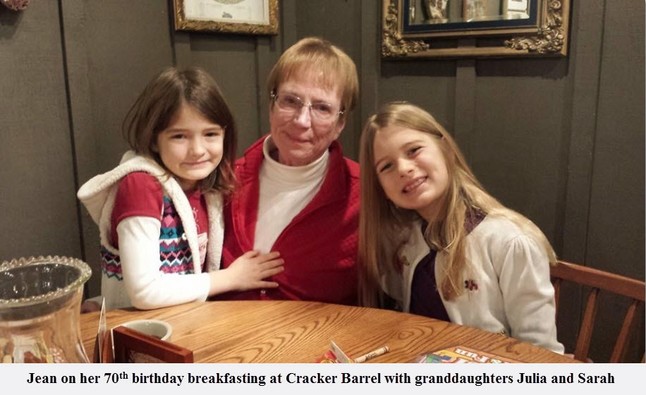 ---
On December 7, Mary Jo Wise reached her milestone birthday. She writes, I seem to be following in the tradition of Jay, Ed, and Mary Sue in the delayed gratification department. We had planned to have dinner at a restaurant overlooking Central Park and to attend an early music concert in New York, but the best laid plans….Dan was recovering from unexpected parotid tumor surgery (I'm happy to report the tumor was benign) and I had torn my ACL (when it rains, it pours), so we ordered in and stuck a candle in my favorite pie.
Reflections on this milestone? I'm all set for this new decade to be the best yet.
In April, Mary Jo and Dan traveled to Salzburg, Austria (see photos below). Mary Jo writes, Salzburg is a gem. We visited with good friends, attended the Salzburg Festival, which was dedicated to Mozart (Salzburg's famous hometown composer), and traveled to the Salzkammergut, the lake district of the Austrian Alps. Our trip came to an especially satisfactory end when, after buckling up for our return Air Berlin flight, a female voice announced, "Hier spricht Ihr Kapitan" (smiles and high-fives all around). Despite a substantial rainstorm, take-off and landing were smooth as glass. You go, girl!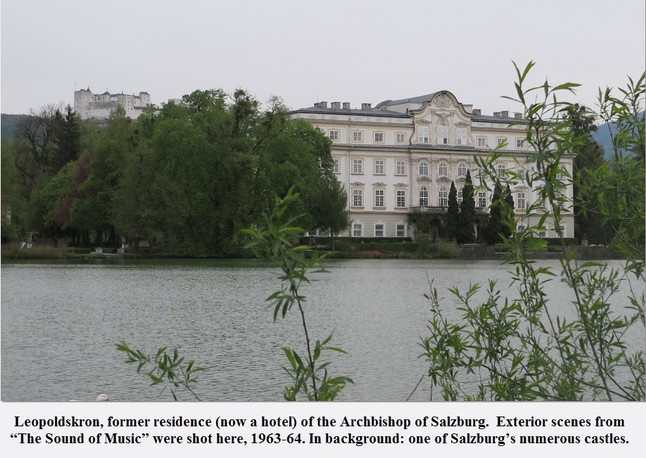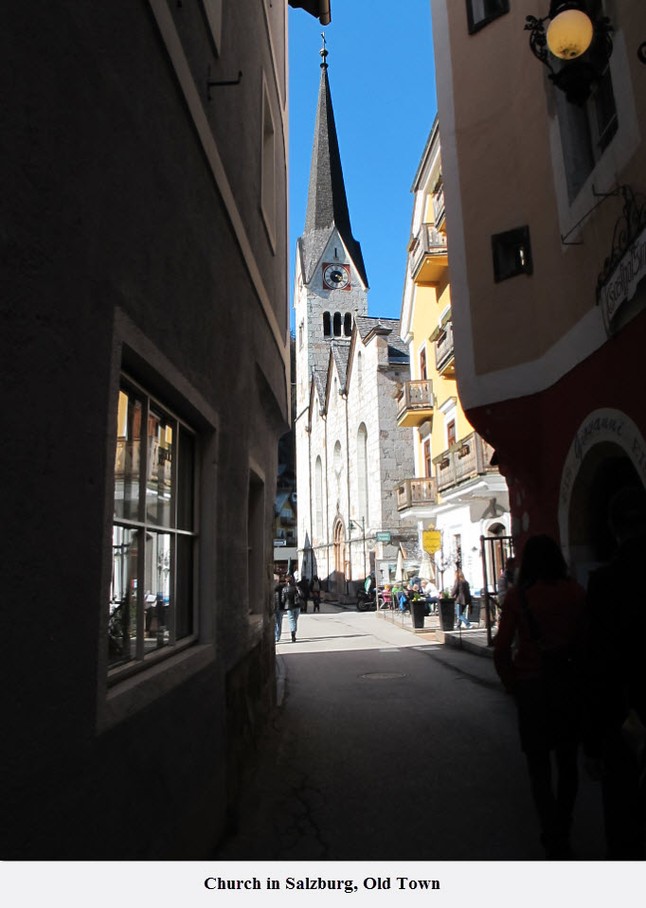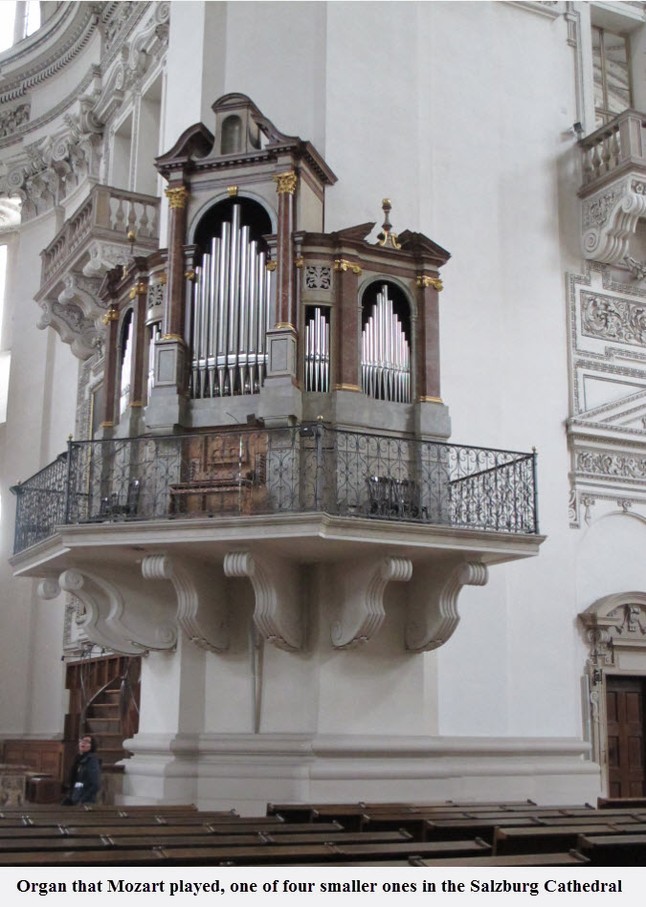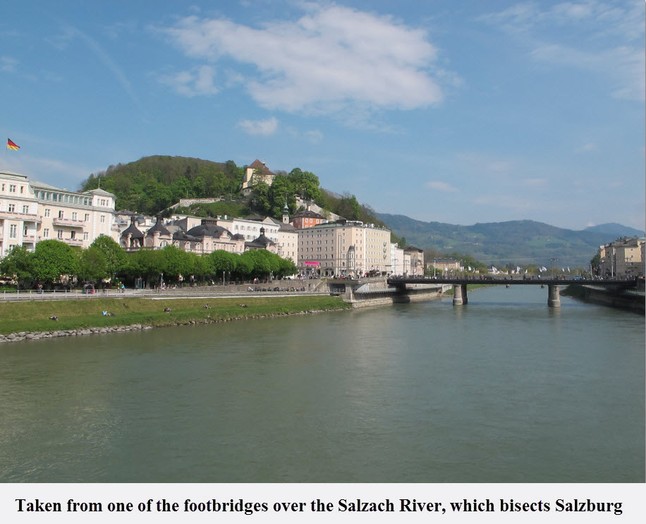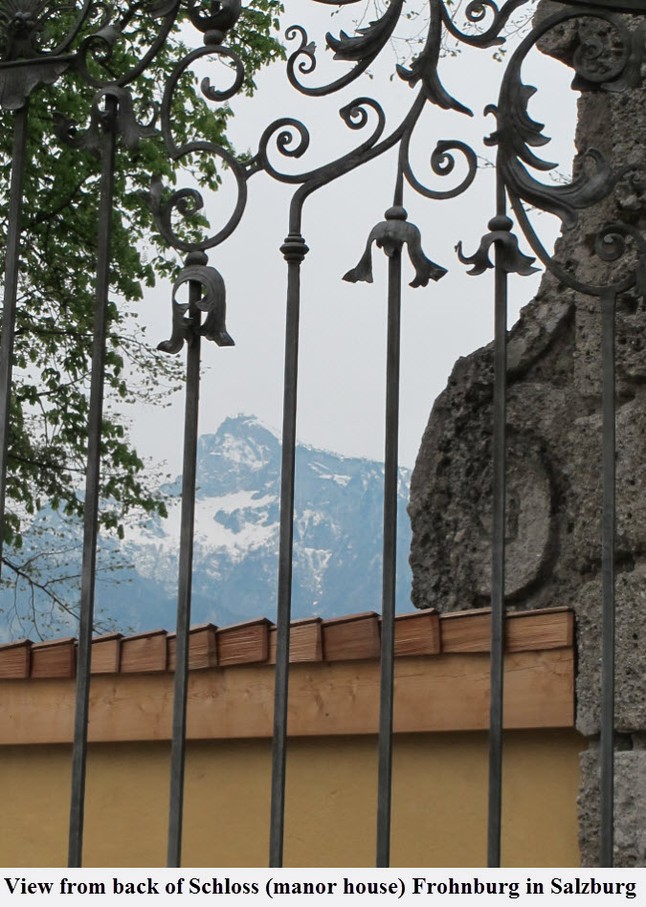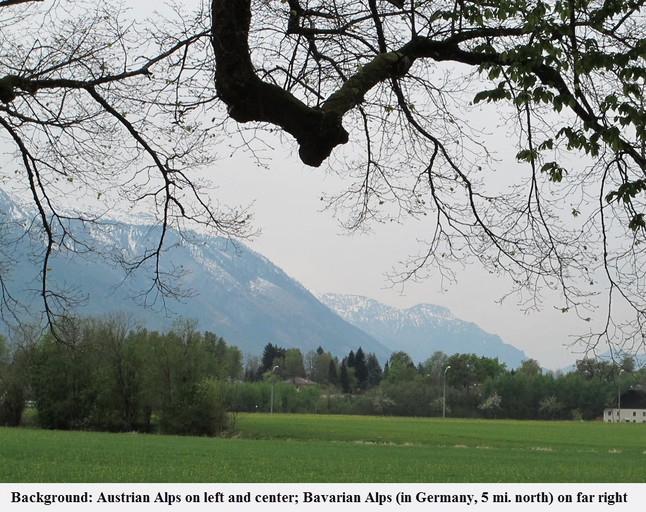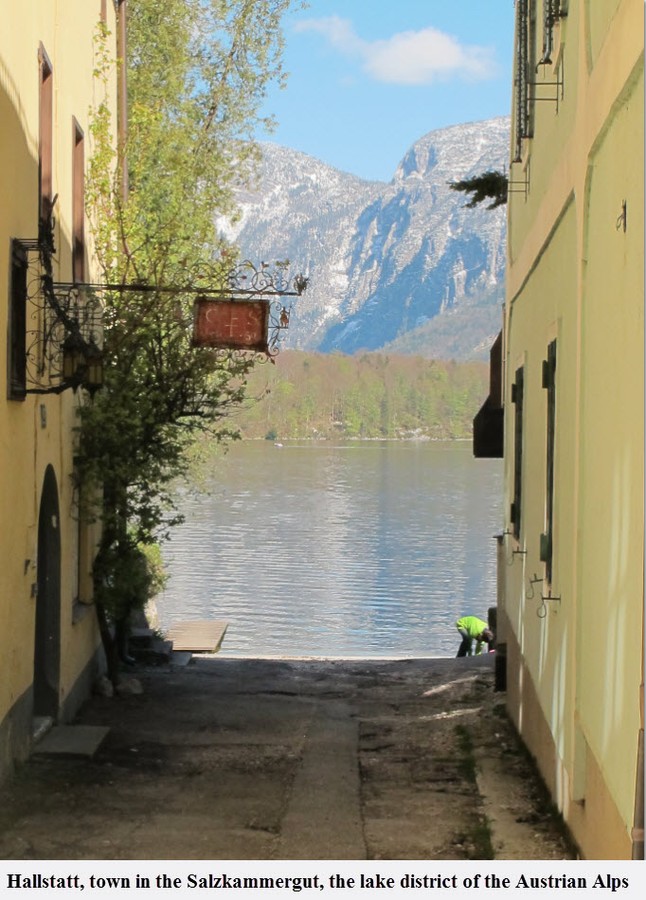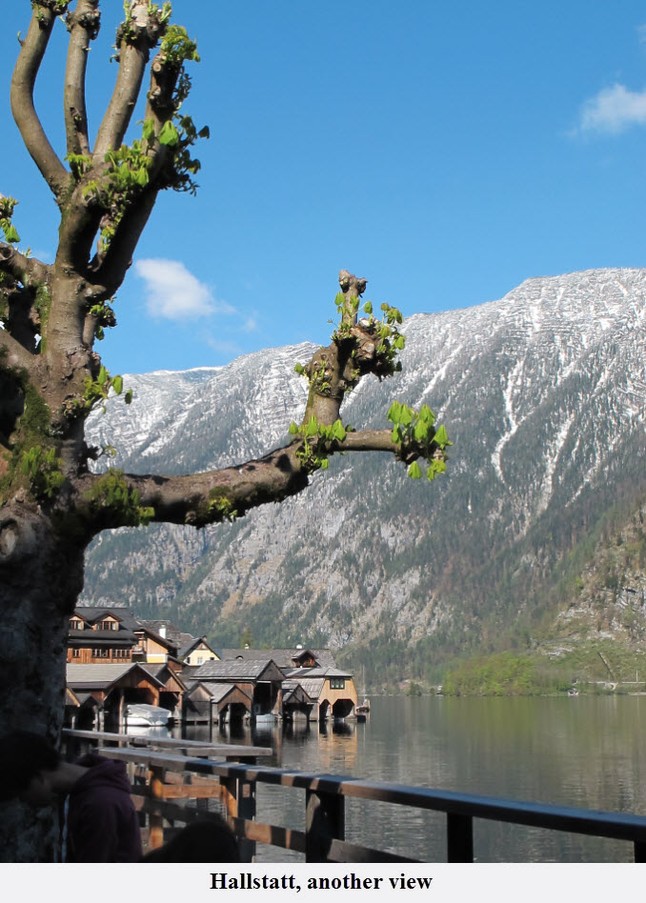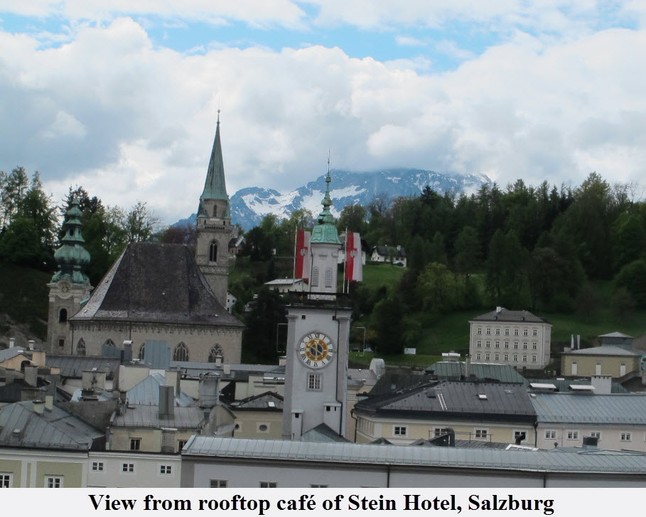 [Happy 70th, Jean and Mary Jo! May this new decade be good for you!
It is always good to hear from you. Please send your news (including photos and
videos) to: Bill at w.sherertz@frontier.com or Mary Jo at dan.jo1@verizon.net]
Mary Jo and Bill
---
As co-administrators of our class website, we would like to wish you "Happy Holidays!" May the New Year bring each and every one of you good health, happiness, and peace –
Bill and Mary Jo
(Read further for class updates.)
---
December 2014
Bill Sherertz reached three milestones this year: retirement in May (along with his wife, Nancy, in July), his 42nd wedding anniversary in August, and his 70th birthday, the last on November 3. He writes, In recognition of these milestone events in our lives during 2014, our three wonderful daughters gifted us with a three-week trip to Paris, including a small, housekeeping flat in the 6th arrondissement!
For Bill's birthday dinner, he and Nancy dined at one of the best steak-frites restaurants in Paris -- http://www.bonjourparis.com/story/relais-entrecote-best-steak-frites-paris/ -- and had a marvelous meal (see photo below). He writes, That evening, I took Nancy to Trocadero for a night view of the Eiffel Tower in the rain to see the 20,000 sparkling lights illuminate the sky around the Tower. They sparkle for 5 minutes every hour on the hour, playing with the imagination of people who happen to be around -- http://myeiffeltower.com/eiffel-tower-lights
The last photo is of Bill on the steps of the Basilica of the Sacred Heart of Paris (Basilique du Sacré-Cœur) at Montmartre -- http://en.wikipedia.org/wiki/Sacr%C3%A9-C%C5%93ur,_Paris -- holding his favorite guidebook, Rick Steves' Paris 2014.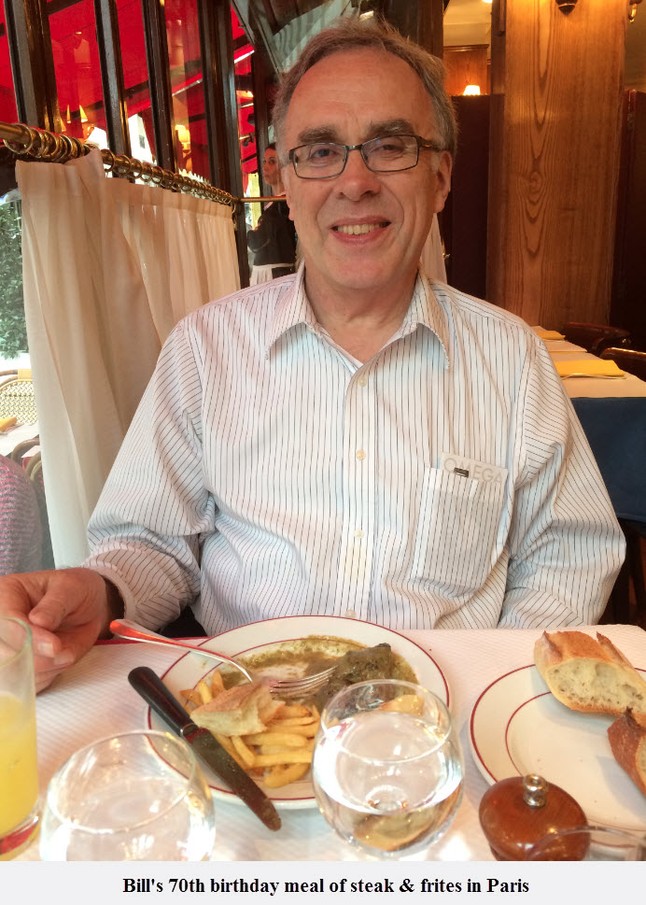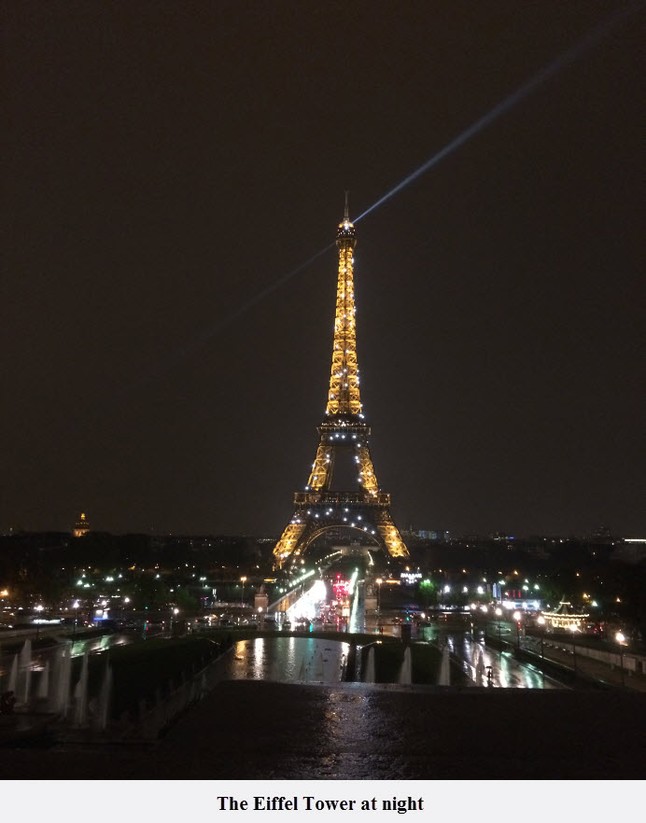 [Happy 70th, Bill! May many more trips to Paris be in your future!]
---
Bill Grimes shared an interesting update with us. He writes: They're gone. The place is no longer haunted. The little girl stayed around for about 1½ years, and then she left. I think the others were there as some sort of protection or support for her. Whatever the case, they are gone. This all seems to have occurred on or about October 29, the date of her death in 1929.
Bill Sherertz responded, Inquiring minds may wonder how you know the ghosts are gone. Could you explain?
At first the place felt different, Bill G. replied, like one's house when the party is over, the last guest is gone, and there is a faint void. I had two paranormal groups do separate, independent investigations. I doubt they communicate with each other. Neither team found any evidence of paranormal activity. I went through the office several times with my own equipment and found nothing.
I had rid the place of the ghost that was the problem – that is, the father who had killed the girl. She then went on a cathartic romp, enjoying a happy time in the office long enough to get that out of her system. We think she needed time to mature – to realize that she had accomplished what she needed to do. She was able to get people to listen. The truth of the circumstances of her death was made public for the first time. She was able to enjoy a childhood in the place that did not involve the threat of a returning, bullying father. Most important, she managed to achieve a mental state in which she was able to let go of her home, where so much time was spent, and to find peace.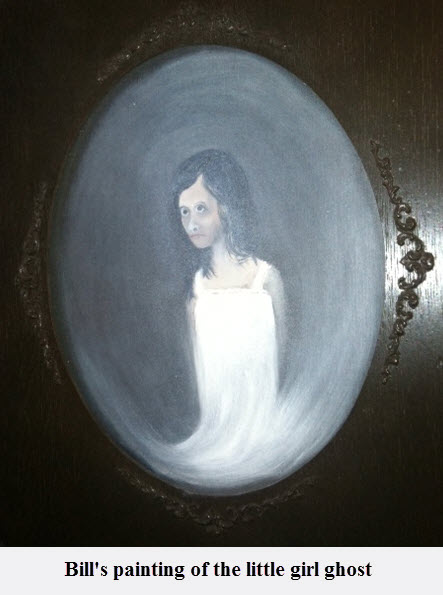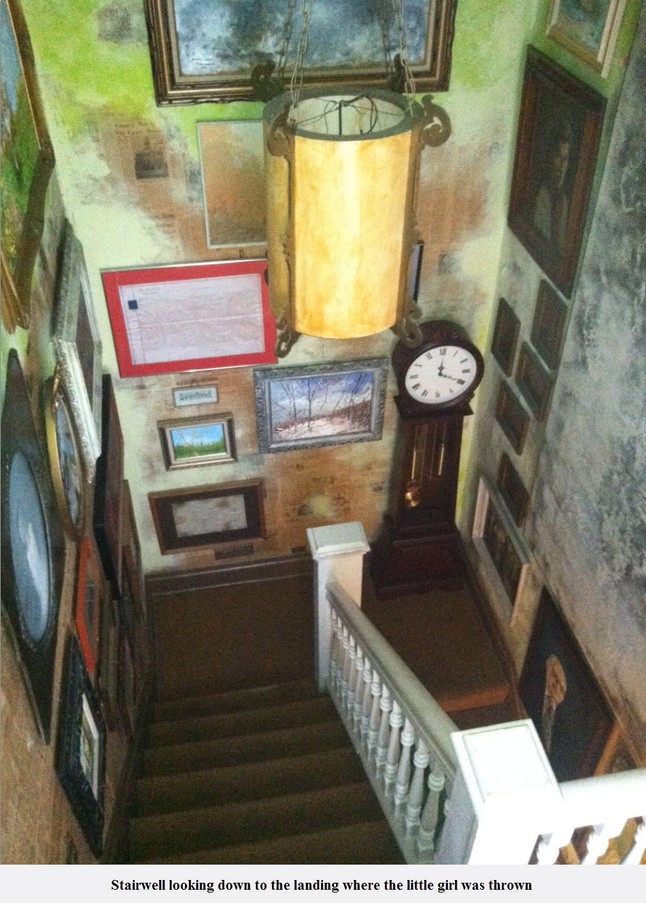 [We are glad that peace is restored to 1125 20th Street – and may it remain ever so.
We welcome hearing from you. Please send your news (including photos and videos, if you like) to: Bill at w.sherertz@frontier.com or Mary Jo at dan.jo1@verizon.net.]
Mary Jo and Bill
---
November 2014
Karen Li Simpkins returned from Bali where she spent part of August and September. She recently inherited a small home there, located at an altitude of 1000 feet, which means equatorial temperatures are moderated. In fact, Karen said that mornings can dip into the 40s. She recently taught local neighbors about wearing socks to keep the morning chill at bay, and now she has a sizeable order of socks to bring back on her next return. Her home is located a safe distance from the local volcano. Because of the altitude, it is also out of harm's way should a tsunami occur, a not-unheard-of-event in this part of the world.
Karen returned to The Woodlands, her Huntington retirement community, in time for her 70th birthday on October 15. She shared her thoughts on this life milestone: My maternal grandfather said that one should live threescore and ten, and everything after that is a bonus. I'm now on the bonus side, and I plan to enjoy every minute. It's all the big karma now for me. She added that she keeps fit by walking at least 2 miles daily and, when in Bali, enjoying the fresh foods there.
[Happy 70th, Karen! And may your bonus be a great ride!
We welcome hearing from you. Please send your news (including photos and videos, if you like) to: Bill at w.sherertz@frontier.com or Mary Jo at dan.jo1@verizon.net.]
Mary Jo and Bill
---
October 2014
Mary Sue Reeves Schell turned 70 on September 2nd: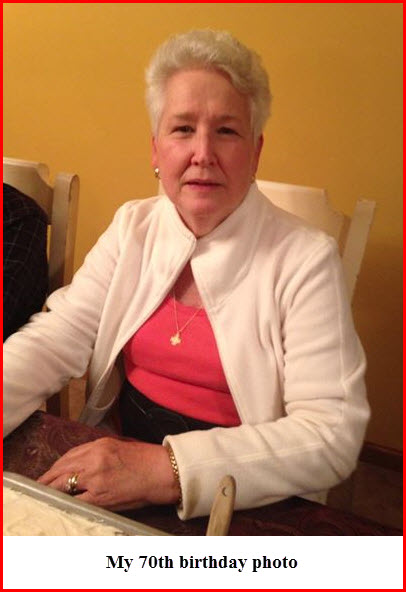 She writes, I am celebrating my birthday the entire month. Hal had to have major dental work that required a soft diet for 6 weeks, so we decided to delay our actual celebration until he is able to enjoy fine food once more. The photo is from my birthday celebration that my niece organized. My loving family of nieces, nephews, brother and sister-in-law, and my wonderful husband, Hal, surrounded me. Yes, I blew out all the candles in one breath!
We asked Mary Sue to reflect on her milestone birthday. She answered, What is it like for me to have turned 70? Great reflective question! To begin with, I have been constantly reminded this past year how graciously my mother handled aging, as she lived to be 97. She advised me to embrace each new year with grace, and to know that each experience of the past prepares one for the future. Mary Sue writes, I have chosen to live a life of no regrets, so as I enter my 70th year, I look forward to what is ahead.
In looking ahead, she and Hal plan to celebrate their 30th anniversary next year by returning to the place where they had their honeymoon.
Mary Sue enjoys gardening and writes that her patio and surrounding garden become another room in summer (see photos below). From there, she and Hal watch hummingbirds and enjoy beautiful sunsets. She has also returned to painting, making time to relax with her art.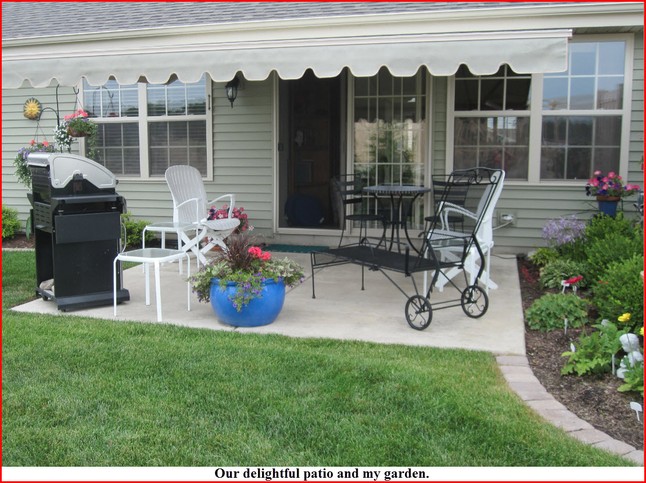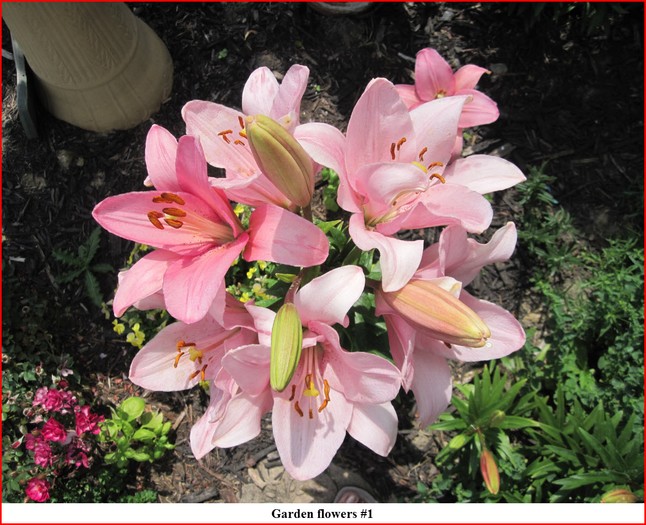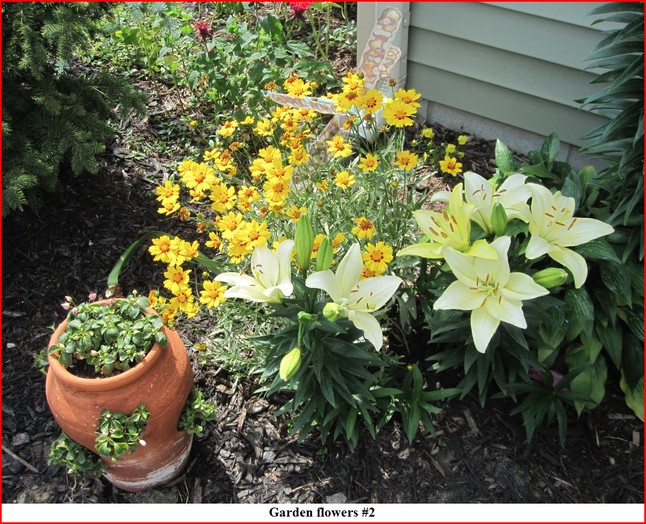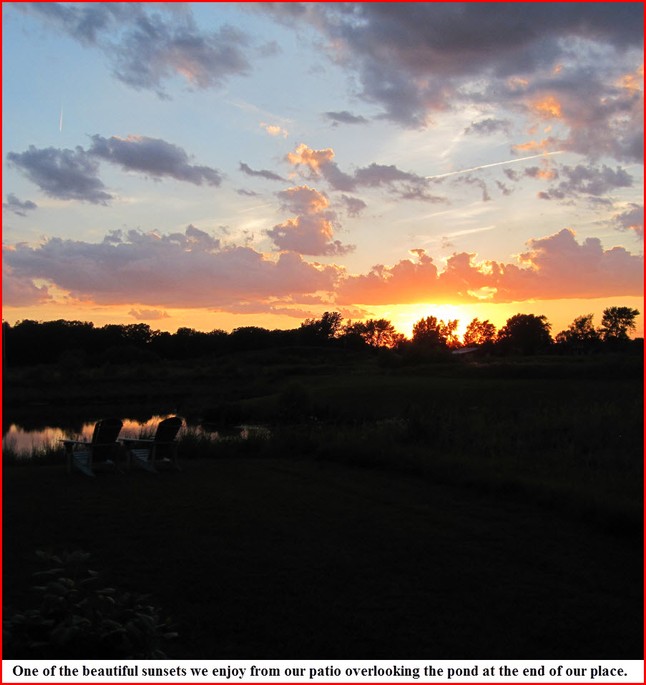 She said, Although the past several months have been challenging for us, life is good. It is a journey that can carry us or we can make the choice intentionally to face the challenges with a fearless attitude of looking beyond the circumstances, trusting God for the outcome. He is always faithful.
[Happy birthday, Mary Sue! We hope your month-long celebration was joyous in every way.
It is always good to hear from you. Please send your news (including photos and videos, if you like) to: Bill at w.sherertz@frontier.com or Mary Jo at dan.jo1@verizon.net.]
Mary Jo and Bill
---
Summer 2014
(Editor's note: There seems to be an emerging theme with our summer birthday classmates. Good times thwarted? Postponed? Read on …)
On the day before and day of his 70th birthday (July 28, 2014), Jay Ricketts repaired a break in the underground water supply at his Atlanta home (see photo and caption below). He writes, "I recall going to bed very early on my birthday evening." A celebration was planned for a couple of days later.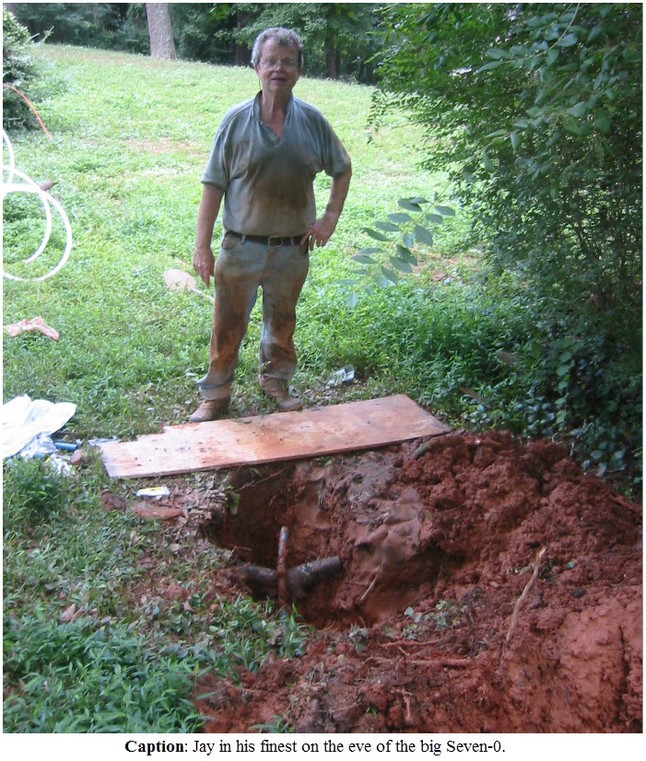 "At 70, I find myself realizing that my days of being able to do all the physical activities that I enjoy, like carpentry, metal work, gardening, and fishing, are limited. As a result, I am working harder than ever so that when the big slowdown arrives, I will be able to say that I completed most of the projects on my bucket list. However, I do pay a serious price in the aches and pain department."
Jay added that he had some pleasant family milestones to report. "Lynn retired 18 months ago and is enjoying her time with golf, tennis, bridge and extensive reading. Our son, Ben, is the CEO of a start-up medical products company in Memphis, and our daughter, Merrill, just completed her master's in accounting at Tulane. She is half-way through the 4 CPA exams."
---
On August 11, Ed and Diana Mullins drove to the Virginia Beach, VA area for a quick oil change, to be followed by a special lunch at a highly-rated restaurant to celebrate Ed's 70th birthday. However, the "quick" oil change morphed into a 3-hour one, after which they decided, "What the heck, let's just go home."
On August 15, after Ed's year-long interim position at Christ Episcopal Church in Elizabeth City, NC, he and Diana returned to their Outer Banks home in Corolla, NC. Reflecting on his milestone birthday, Ed said, "Turning 70 isn't the end of the world. When the day comes and goes, we continue to do the things we enjoy. I'm looking forward to this next period in my life."
And this would include Ed's recent signing of a contract to do real estate photography.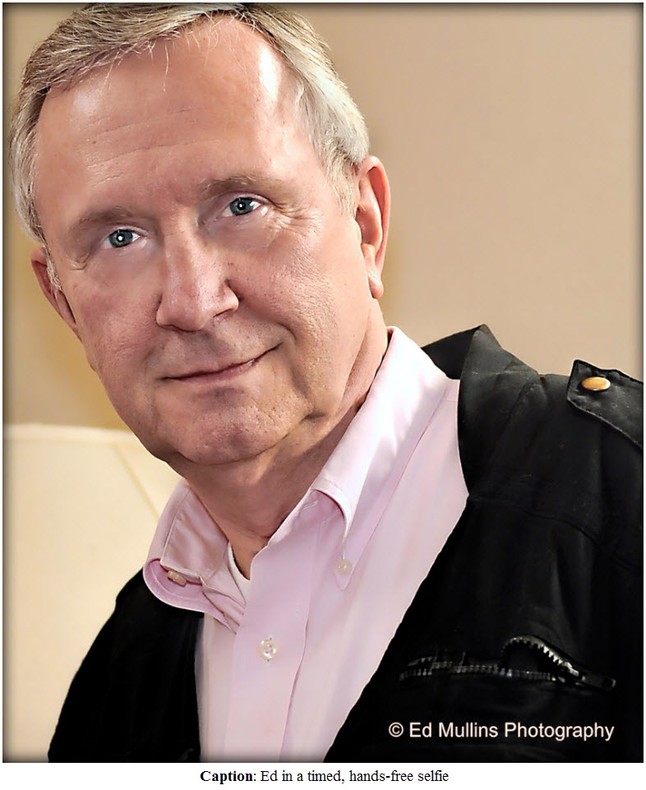 ---
[Birthday wishes, Jay and Ed! May the future bring many pleasurable and, dare we say (?), easier days pursuing your favorite activities.
It is always good to hear from you. Please send your news (including photos and videos, if you like) to: Bill at w.sherertz@frontier.com or Mary Jo at dan.jo1@verizon.net.]
Mary Jo and Bill
---
June 2014
On the occasion of her milestone birthday on May 6th, Kay Collins Price writes:
"My 70th was uneventful but very relaxing. My husband and I (and our wonderful dog) rented a house at Atlantic Beach, NC for a week. During this time, we managed to walk 37 miles. We celebrated my birthday dinner in beautiful Beaufort, NC, at the Beaufort Grocery (editor's note – a restaurant), one of our favorite eateries.
When the day arrived, I pondered long and hard how it was possible to be 70. My parents seemed old at 70, and I don't feel a day older than when I was 30. I suppose continuing to work -- and working with young creative people -- I see myself as just part of the team."
[Birthday wishes, Kay! May the future bring many pleasurable days pursuing your favorite activities.
It is always good to hear from you. Please send your news (including photos and videos, if you like) to: Bill at w.sherertz@frontier.com or Mary Jo at dan.jo1@verizon.net.]
Mary Jo and Bill
---
May 2014
"A red piano (*see Editor's note further down), a world-champion classical whistler, a renowned orchestral conductor, and a young violinist who was a top-ten finalist on America's Got Talent were some of the elements that made a recent house concert in Meadows of Dan, Virginia a memorable experience for those who attended."
The occasion was Doug Mann's 70th birthday, and the quote above, from the Floyd County Press, described the event that was planned by Doug's wife, Lorrie. Held in the great room of Doug and Lorrie's home, the concert was to benefit the Virginia Blue Ridge Music Festival, which brings classical mentors and academy students together for ensemble and orchestral performances throughout Floyd County each spring. The invitational event served as a prelude to the festival's 2nd season.
Violinist, Sage Wright, was accompanied on the piano by the festival's Artistic Director, David Wiley, who also serves as director/conductor of the Roanoke Symphony Orchestra and New York's Long Island Philharmonic. On a special note, Maestro Wiley introduced Lorrie's son, Zachary Groff, a pianist/composer and classical whistler, who delighted the crowd with his classical whistling performance.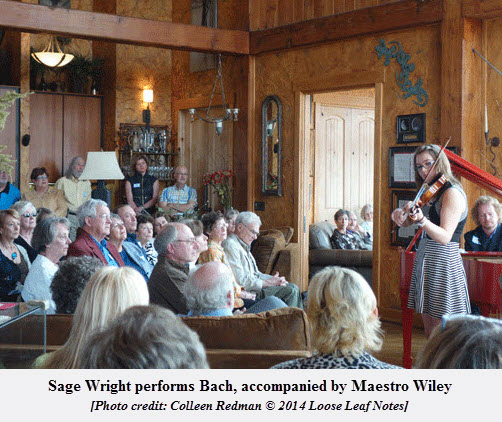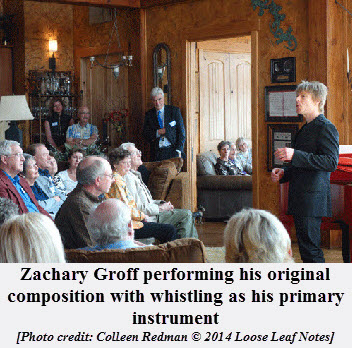 The 70 guests were treated to a generous reception following the concert. In the celebratory spirit of a house concert, Lorrie presented Doug with a red birthday cake that was created in the shape of a grand piano.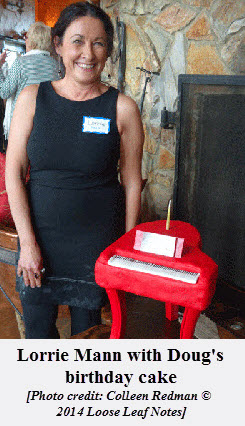 *Editor's note: Doug and Lorrie are the proud owners of a red Steinway grand. Less than a dozen are said to have been made.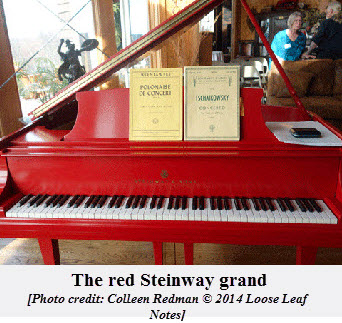 May we be forgiven if we say a grand time was had by all?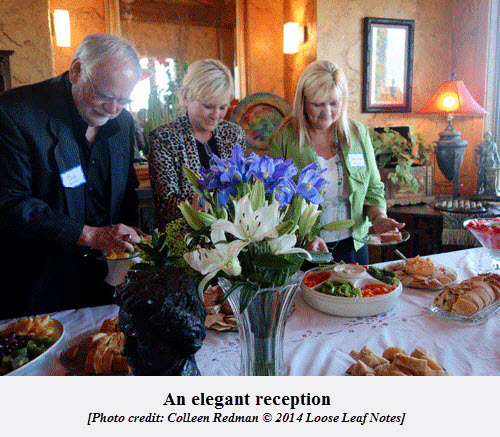 [Birthday wishes, Doug! May the future bring many pleasurable days pursuing your favorite activities.
It is always good to hear from you. Please send your news (including photos and videos, if you like) to: Bill at w.sherertz@frontier.com or Mary Jo at dan.jo1@verizon.net.]
Mary Jo and Bill
---
April 2014
Health and happiness to Diann Franklin Arthur who celebrated her milestone birthday on March 15th!
Diann writes: "I had a wonderful day. My long-time friend from Florida arrived on the 14th. After we had two hot dogs at the famous Winnie Stand in Lynchburg (VA), it was a day of shopping on a nice Spring day with a friend. Later that evening, another group of friends gave a birthday party for me. Good food and laughter made it very nice. I feel very blessed to have good friends and a wonderful husband."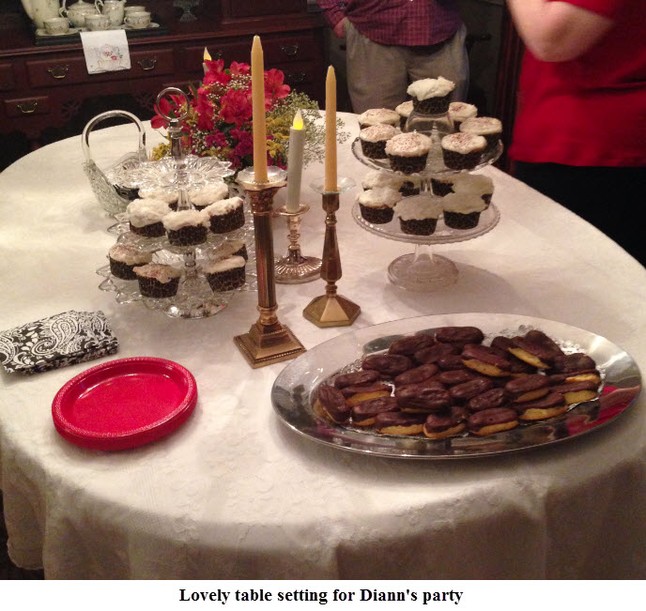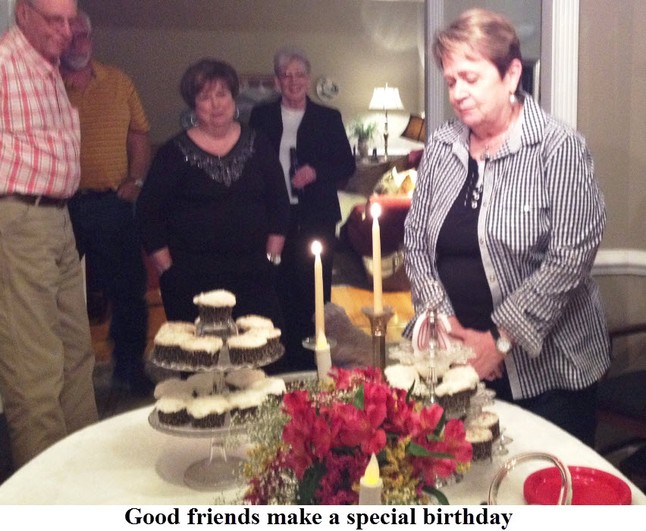 [Birthday wishes, Diann! May the future bring many pleasurable days pursuing your favorite activities.
It is always good to hear from you. Please send your news (including photos and videos, if you like) to: Bill at w.sherertz@frontier.com or Mary Jo at dan.jo1@verizon.net.]
Mary Jo and Bill
---
March 2013
2014 is the year most of us turn 70. In February, Melvin Peters and Bill Grimes celebrated their special days, which they share with us below. Birthday greetings, Melvin and Bill! May this milestone and new decade bring you good health and much joy!
Mary Jo and Bill
---
Melvin, whose birthday was February 7, writes:
"I spent my 70th birthday with some of my loved ones and favorite people while indulging in one of my passionate pastimes, what is broadly categorized as 'world' music.' We were joined by our oldest child, Troy Ali (my look-alike one), who came over from Chicago, and my African American Studies Department colleague (and my wife's dear friend), Dr. Ana Maria Monteiro Ferreira. Sharon set out one of her wonderful dinners for us."
"We had tickets for one of the University of Michigan's standout musical events, 'A Night in Bamako, Mali,' featuring two bands, Bassekou Kouyate's Ngoni ba and the opening act, Fatoumata Diawara. Each of us was 'in our element' with the African music scene. My colleague's Portuguese background, which gives her a strong appreciation for the music of Africa, knows much about the imprint of African tuning and picking styles on Portuguese guitar techniques. Sharon has two anthropology degrees from Michigan State Univ., and our son earned anthropology degrees from Univ. of Michigan and Univ. of Chicago, with a concentration in ethno-musicology. All of us are huge blues fans. An interesting thing about the music from Mali is that some folks ended up in Mississippi, where African traditions led to the creation of the blues."
"Kouyate is from a culture-bearing family that reaches back to the 15th century. His band features African percussion (including gourd drums) and tenor, mid-range, and bass ngoni. The ngoni, a four-stringed instrument related to the ancient lute that was found throughout West Africa, is the father of the banjo and grandfather of the western guitar. This music, blended with thrilling, enthusiastic Malian singing, left us much about which to muse over drinks well into the night."
Melvin said, "The world was good to me on my 70th birthday."
---
Bill Grimes, whose birthday was February 28, shared with us the following:
"My day began when Molly, one of our dogs, became ill at 4:15 a.m. Later, after a fine breakfast and receiving a cute e-card from a classmate, I spent the morning at the DMV. I had been there the week before for my new operator's license, and was issued a temporary one, which I lost. Janet and I have season tickets to the West Virginia Symphony in Charleston, and I didn't want to drive there without a license. I had waited all week for my permanent one to arrive in the mail, hence, the morning at the DMV. Of course, in that afternoon's mail, the permanent one arrived, so I now had a new temporary AND permanent license."
"That evening, we enjoyed Beethoven's Symphony No. 2. In addition, Korbinian Altenberger, a very bright young man who is in the Astral Artists Program, performed the Beethoven violin concerto."
(Astral Artists is a non-profit organization that plays a vital role in the discovery and development of the nation's most gifted classical musicians.)
"Earlier in the evening, Janet handled things perfectly with a quiet dinner at home on our special plates. What are the special plates? When I proposed to Janet, we were at our favorite restaurant, which later closed, but not before we went there for one final dinner, when I bought two plates from them. We use these only for special and private dinners."
"As a footnote, I have noticed myself enjoying sunsets more than ever."
P.S. Bill writes: "On March 1, available grandchildren, children and spouses threw a surprise pizza and beer blast." See accompanying photo.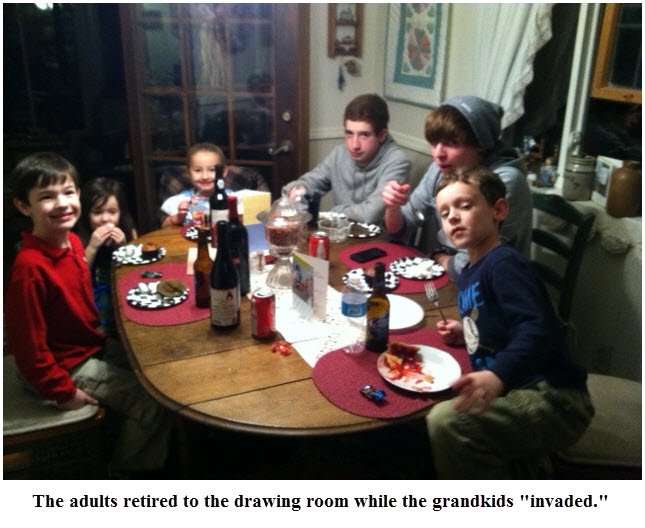 [Birthday wishes, Melvin and Bill! May the future bring many pleasurable days pursuing your favorite activities.
It is always good to hear from you. Please send your news (including photos and videos, if you like) to: Bill at w.sherertz@frontier.com or Mary Jo at dan.jo1@verizon.net.]
Mary Jo and Bill
---
February 2014
Ed Mullins writes that 2013 was a year of challenges in which he and Diana spent considerable time dealing with medical issues. They are recovering now and eager to move on.
Speaking of moving, they've settled nicely in the cottage rectory provided for them by Christ Episcopal Church in Elizabeth City, NC, where Ed is Interim Rector. Ed says the cottage is more complete with Diana's cross-stitch creations now displayed on the walls. The church is located 90 minutes from their home in Corolla, NC, on the Outer Banks (see accompanying photos). He writes, "Christ Church is a beautiful downtown parish that is very active, and I'm having a 'goodly' time." He sends his best wishes to everyone for 2014.
Below are some of Ed's wonderful photos: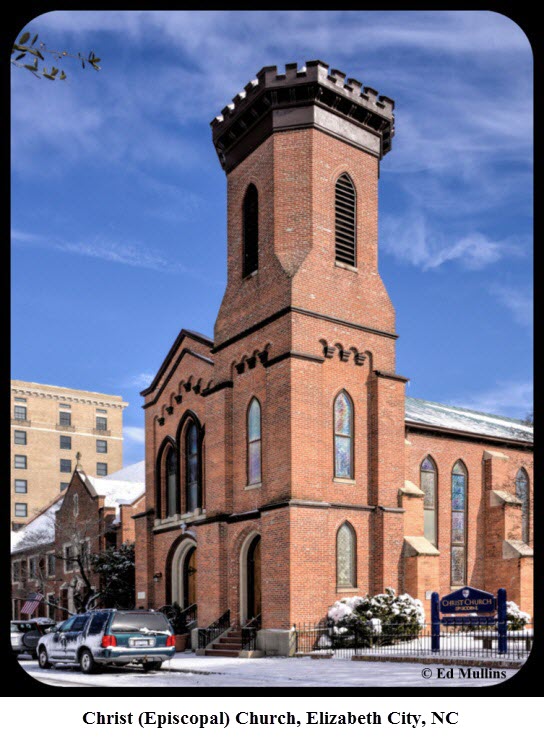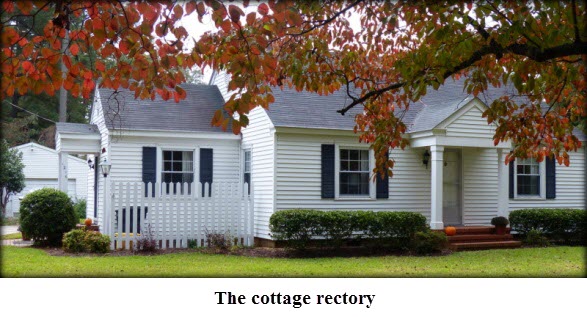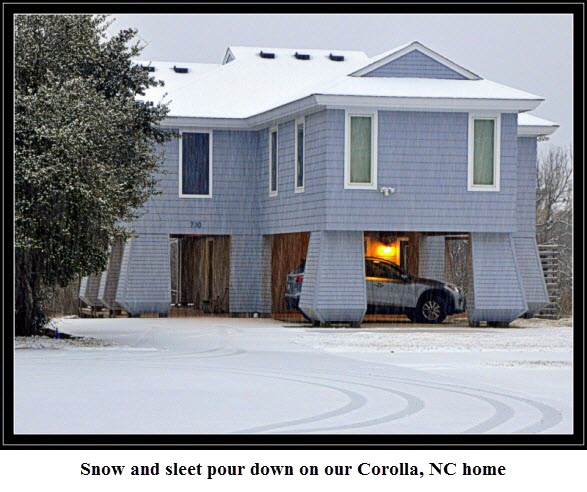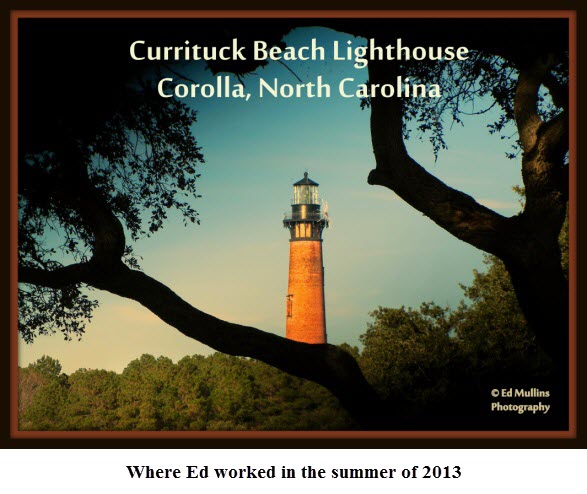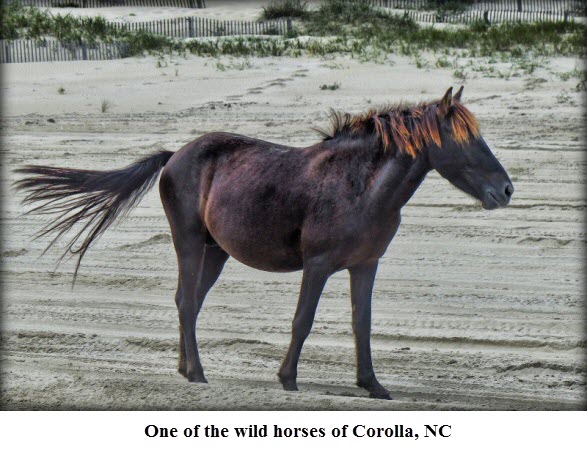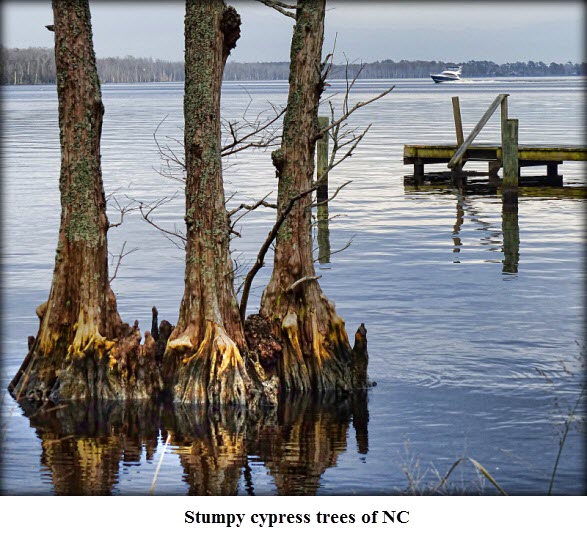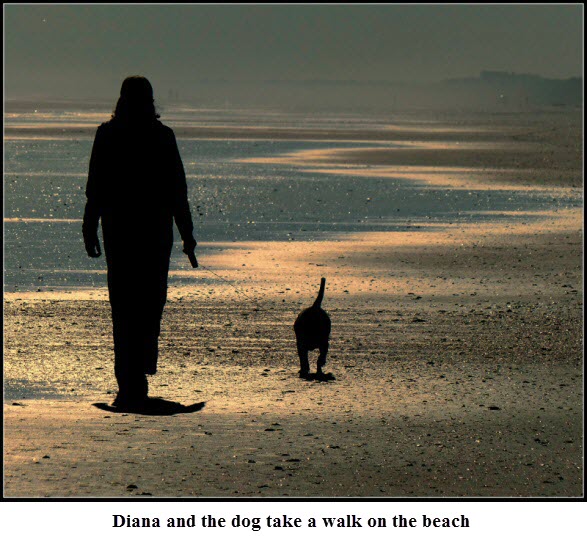 [It is always good to hear from you. Please send your news (including photos and videos, if you like) to: Bill at w.sherertz@frontier.com or Mary Jo at dan.jo1@verizon.net.]
Mary Jo and Bill
---
December 2013
Bill Grimes and Diann Arthur have shared their photos of Christmas and we have placed them on a new part of our MHS site called "Classmate Holiday Photos." We think it's interesting to see how others celebrate the holidays in different settings, with different customs, and in different regions.
Won't you share your holiday photos with us? We'll post them for all to enjoy.
It is always good to hear from you. Please send your news (including photos and videos, if you like) to: Bill at w.sherertz@frontier.com or Mary Jo at dan.jo1@verizon.net.
Mary Jo & Bill
---
Dear Classmates,
On Thursday, November 28, 2013, we will be fortunate to experience a once-in-a-lifetime event: the convergence of Thanksgiving and Hanukkah! This convergence last happened in 1888 and, according to one calculation, won't happen again for another 77,798 years.
This year, November 28 is American Thanksgiving and the first full day of the eight-day Jewish festival of lights or Hanukkah, which begins at sundown the previous night.
Along with wishes for a Happy Thanksgiving and Happy Hanukkah, we include our November Classmate News update below.
It is always good to hear from you. Please send your news (including photos and videos, if you like) to: Bill at w.sherertz@frontier.com or Mary Jo at dan.jo1@verizon.net.
Mary Jo & Bill
---
November 2013
Jean Loemker Read was presented with a plaque at her retirement this month from the U.S. Army Corps of Engineers, where she has worked for 22 years.
As an industrial hygienist and Chief of the Safety Office, she was responsible for employees' protection while working in disaster areas. In the Environmental Office, she was involved in damage assessment after Hurricane Andrew in Homestead, Florida, and in the extensive flooding in southern West Virginia. Jean's degrees in chemistry were put to good use as she assessed asbestos contamination and other dangers that determined the conditions under which damaged structures were to be destroyed. Later, working in the operations division, she re-wrote and updated programs.
She plans to spend "two hours a day knitting and two hours reading," meeting MHS and Emory Univ. friends for interesting travel excursions, and spending time with her daughters and their families. Jean is never far from helping others, and she will continue her important work with Hospice of Huntington.
HAPPY RETIREMENT Jean!
---
Dear Classmates,
We enjoy sharing good news, especially when it involves a classmate (see September posting below), and we welcome receiving yours. Please contact Bill Sherertz (w.sherertz@frontier.com) or Mary Jo (dan.jo1@verizon.net).
In speaking with Melvin recently, I was impressed by his recent accomplishments, and I think you will be as well – Mary Jo
---
Classmate News
September 2013
In the fall of 2012, Dr. Melvin Peters, Associate Professor of African American Literature at Eastern Michigan University, was invited by Daniel Little, Chancellor of the Univ. of Michigan-Dearborn, to present a 2-hour lecture in Dearborn on "African American Music in the Civil Rights Movement."
In the spring of 2013, Melvin was a member of the 3-person panel, "Transformative Afrocentric Education, K through College: New Perspectives, Teachers & Professors in the Trenches," at the National Council of Black Studies conference in Indianapolis. His presentation topic was "Fearing Black Curriculum, Harming Black Students."
In addition to teaching at Eastern Michigan, Melvin has assumed another important role on campus – that of a McNair Scholars Program faculty mentor.
Named in honor of Ronald E. McNair, Ph.D. (MIT), physicist and NASA astronaut who perished in the 1986 Shuttle Challenger flight, the McNair Scholars Program is administered by the U.S. Dept. of Education. Exceptional students from underrepresented segments of our society, including low-income and first-generation college students, are admitted to the prestigious program where they must demonstrate a genuine commitment to doctoral study. The program's goal is to increase attainment of Ph.D. degrees by students who are historically underrepresented in graduate programs
The McNair Scholars Program now exists on over 200 campuses nationwide. Faculty mentors coach students in various activities essential to success in Ph.D. programs, including graduate school applications and test preparation, research, writing and presentation of papers at professional symposia. The program also awards tuition breaks.
Melvin is currently mentoring 3 McNair Scholars. Under his careful tutelage, one young woman from the inner city in Washington, D.C. and a graduate of Eastern Michigan went on to earn her master's degree at Syracuse University and is now enrolled in the Ph.D. program at Rutgers University. Another young scholar recently completed summer study at the Univ. of California at Santa Barbara and a 2-week internship in Rome, Italy.
Most of us know that talent is universal but opportunity isn't. The McNair Scholars Program is directly addressing this issue, and committed faculty mentors like Melvin, throughout the nation, are the foundation of the program's success.
---
Classmates,
It is with great sadness that I am passing on the following note I received from Bill McWhorter's wife, Judy, this morning, March 22, 2013. I am so grateful most of us got to visit with Bill and Judy at our reunion last Fall.
It is with regret to inform you that Bill passed away this morning about 6:00. I am so glad he got to attend his 50th class reunion. He talked about it so much after we got home. Arrangements are incomplete.
Judy (wife)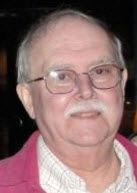 ---
Classmates, today is Diann Franklin's birthday and she wanted to share her wonderful news:
Doug got a new right lung on March 6...We have really been blessed!!!! This is a very special birthday for me. We are living in Durham, NC for at least 6 months, Duke is a great hospital and they have done so much for both of us. NO MORE OXYGEN BOTTLES!!!!!!
---
Folks, here is the letter from Kay Collins Price which I read at our Reunion dinner on October 13, 2012.
TO THE CLASS OF 62, MARSHALL HIGH SCHOOL
Hello to all of you who were able to make it to Huntington for the reunion. I so regret that I am not able to be there, as the Marshall campus was my home from kindergarten through 2 years of college, and I would love to see all of you who were part of my life. A few of us were together from the beginning of school, and some came as special newcomers.
I've been asked to send along a bio, as I have been remiss in not put anything on the website, so here we go.
After marrying my high school sweetheart, Johnny Ketchum we moved to Richmond, VA where our first two children, John Wesley and Christen Leigh Ketchum were born. We moved several times, following Johnny's career in the advertising business. During our time in Winston-Salem NC, our third child, Anne Hunter Ketchum was born. I was a homemaker and mom, plus I developed a love of older homes. We refurbished 9 homes, with me being decorator, floor sander, wallpaper hanger, and landscape artist among other things. I also began a career in Real Estate since I was so familiar with the market. Johnny and I divorced in 1975.
In 1977 I married Dave Price and we moved to the mountains of North Carolina, a wonderful little town of Tryon, just south of Asheville. Dave has two great sons, Larry and Steve, who were in college at that time. We lived in an old log home on the side of the mountain, which we remodeled over the course of a few years. Tryon was a retirement area for upscale retirees, beautiful horse farms and wonderfully unique homes. I flourished in my real estate career, as I loved working with older people who had so much knowledge and so much wisdom to share. We lived on the mountain for 10 years until Dave's textile career moved us to Danville Virginia, where we still reside.
My first chore in Danville was, or course, to remodel a home built in the 30's. I decided against staying in real estate, as Danville is a mill town and not the best area for a lucrative career in the business. I worked on the house for a year and opened it for the Virginia Garden tour when finished. People became aware of my remodeling abilities, so I started a wallpapering business called the Cover Girls with 3 friends. In 1991 a local radio station heard I had sales experience and called to see if I would consider selling advertising. I agreed to try it for a year, and 21 years later, here I am, sales manager and station manager for an AM and 100,000-watt FM station. I will retire someday when it's no longer fun.
It's been an interesting road for a little girl from West Virginia. School. I don't how many of you remember, but in Jr. High, I worked for the Smart Shoppe and on Saturday mornings I did a radio show on WHTN about new styles for teenage girls sponsored by the store. So, I guess I've come full circle. Ha.
My love to all of you and I'll be with you in spirit. I hope you have wonderful times and memories to share. I certainly have a lifetime of memories with all of you and the special little family that was the Class of 62.
Kay
---
Karen Li Simpkins has posted some comments about her life in her Profile. We think you will find her comments very interesting.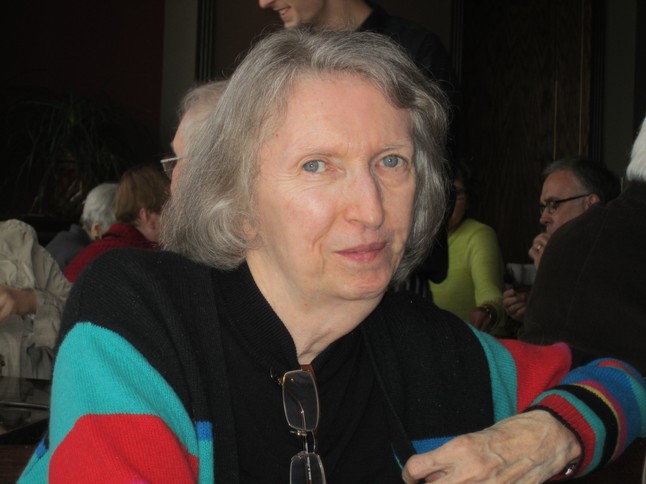 ---
Ghostbusters Update
Bill Grimes has informed us that the Travel Channel's season premiere of "The Dead Files" will air on this coming Friday, August 10, 2012 a full month earlier than predicted. The 20-member crew spent 5 days filming in Bill Grimes' office, which has a long, documented history of paranormal activity. You might want to tune in to see the interesting story.
The Dead Files
"Fatal Attachment"

Investigating paranormal activity at a dentist's home office.

Fri 8/10 7:00 PM 654 TRAVHD
Duration: 1 hour
Rated: TV-PG
Reality, Paranormal, Interests, HD
---
Recently, Steve and Andrea visited the Brittany region of France. Here are Steve's note and photo:
"Brittany loves Marshall! During a trip to France in May 2012, Andrea and I were amazed to discover French young people fascinated with Marshall, specifically "Marshall College"! We saw Marshall displayed on sweat shirts and T-shirts, especially in Brittany. Andrea made this photo of me at an open-air market selling "Marshall wear" in the old walled-city of Dinan situated south of Mont Saint Michel. (Yes, Andrea made me buy a French Marshall T-shirt!) We later encountered a young French man in Carnac wearing a "Franklin and Marshall" sweatshirt (he seemed not to know of that college)! Maybe some day the French will learn Marshall is now a university and adjust their sweatshirt logos accordingly."
Regards to our MHS Class of '62,
Steve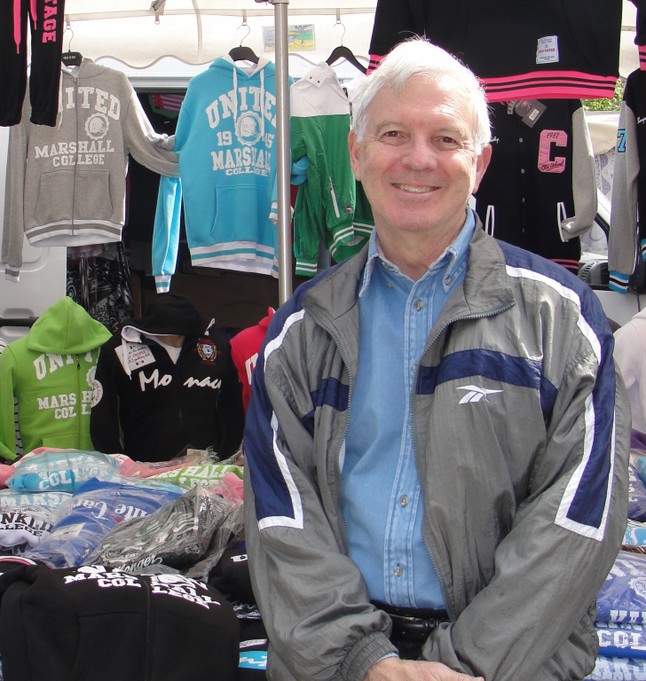 ---
In October 2011, Melvin Peters, Associate Professor of African American literature at Eastern Michigan University, spoke at the International Society for Educational Planning (ISEP) in Budapest, Hungary. Eastern Michigan's Department of African American Studies recently established a master's degree, and Melvin presented an introduction to two of the program's new courses -- one on literature and the other on music -- of the African Diaspora.
Further, Melvin authored a chapter in Dr. Diane D. Turner's anthology, Feeding the Soul: Black Music, Black Thought, published by Third World Press of Chicago in October of 2011. Melvin's piece is entitled, "Curtis Mayfield: The Poet of Soul in the Griot Mold."
---
In October, Doug Mann and Lorrie Riccitello exchanged marriage vows in Paris after a two-week advanced honeymoon in the south of France. Upon their return to the U.S., they complied with Virginia law in a ceremony in Charlottesville. They reside just off the Blue Ridge Parkway in Meadows of Dan, Virginia, where they are building a timber frame house.
Lorrie is the owner of Meadows of Dan Trading Company and the author of the book, Life Is Great When You Have Your Own Snow Shovel.
Additional information about the couple is available through Google.
---
Jean Loemker Read is the recipient of the 2011 George Parker "Spirit of Hospice" Award, which recognized her as Volunteer of the Year in her work with Hospice of Huntington. Jean and other regional West Virginia award winners met and shook hands with Governor Earl Ray Tomblin, who honored them at a special Hospice Volunteer Day ceremony at the capitol building in Charleston on April 13, 2011.
---