Marshall

High School

(now Jenkins Hall)


Class Of 1962
Hello Classmates!
Ronni and Ron have put together a wonderful memento of our 50th Reunion.
Thank you Ronni and Ron!
Bill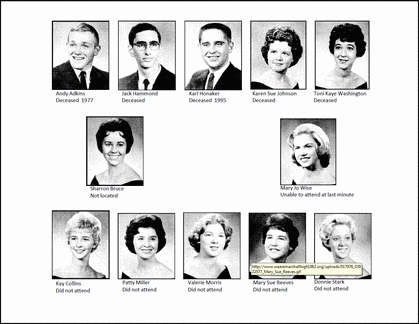 ---
Hello Classmates!
Thanks to the incredible organizing and planning skills of Mary Jo, Jenny and Jean, our 50th reunion came off like clockwork! Nancy and I really enjoyed meeting all of you who came on Friday and Saturday. And we regret not being able to enjoy Jean's brunch on Sunday. We heard that Jay brought some really good salmon!
Bill and Nancy Sherertz
---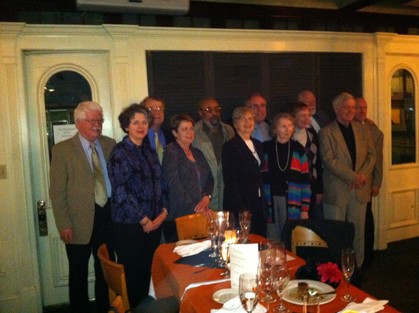 ---
Hello Classmates!
We are happy to post our 50th reunion schedule/reservation information, and we look forward to seeing everyone on October 12-14!
Please check your email for a special message we're sending out today and the following new sections of our website:
Reunion Day 1
Reunion Day 2
Reunion Day 3
MHS "Ghostbusters"
In addition, we have posted the detailed Reservation Information in our existing 50th Year Reunion section.
If we can be of help in any way, please don't hesitate to contact us by phone or email.

Jean: T: 304-522-8945 (cell: 808-397-8769); E: jean.l.read@usace.army.mil
Mary Jo: T: 201-866-167 (cell: 201-334-8281); E: dan.jo1@verizon.net

We hope you enjoy the reunion as much as we've enjoyed planning it!

Jean and Mary Jo
---
Hello Classmates!
Mary Jo and Jean have done some great work researching and setting up housing options for those of us who will be attending our 50th Class Reunion and need recommendations for lodging.
Thank you Mary Jo and Jean!
---
HOTEL RESERVATIONS: We have block-booked rooms, with a discount, for Friday, Oct. 12 and Saturday, Oct. 13, 2012, at the Holiday Inn Express in Barboursville, 10 minutes east of Huntington on I-64. Junior Suite: $89 per night, a room with one king or two queen beds. Club Suite: $109 per night, an over-size room with same choices. Executive Suite: $119 per night with kitchenette, bedroom and living room with pull-out sofa. All rooms have microwaves and fridges. You are responsible for making your own reservation. When speaking with the desk clerk, please inform him/her that you are with the Marshall High School reunion. Because a few classmates will be arriving early – on Wednesday or Thursday evening – you will need to ensure the desk clerk understands exactly the evenings you wish to reserve. If you are arriving late in the evening, be sure to secure a GLA (Guaranteed Late Arrival) so that your room will be held for you.
Tel: 304-733-3338
Website:
http://www.holidayinn.com/hotels/us/en/barboursville/bvvle/hoteldetail
---
As many of you know, West Virginia's state park system is second to none. There are nicely-outfitted cottages at Beech Fork State Park, located approximately 30 minutes south of Huntington via route 10. You will need to reserve early -- October is prime rental time. For rates, and other information, please call or link to:
Tel: 304-528-5794
Website:
http://www.beechforksp.com/accommodations.html
---
Some of you have inquired about 4- and 5-star hotels, resorts, and B&Bs. At the present, there are none in Huntington. There are 3-star hotels in town, but local classmates recommend this newer facility in nearby Barboursville.
Jean and Mary Jo
---
Save the dates! OCTOBER 12-13, 2012
The 2012 MU football schedule has been announced, and we have chosen Friday and Saturday, October 12-13, 2012 for our reunion dates. This is a bye week for the football team (meaning there is no football game, either home or away).
We will be announcing hotel arrangements and reunion activities shortly. Stay tuned!
Jean and Mary Jo
---
Welcome to the Marshall High Class Of 1962 web site!
Visit http://www.wvencyclopedia.org/articles/1529 for a history of Marshall University. Here's an excerpt from that history about our high school:
"... The centennial celebration in 1937 brought descendants of John Marshall to the campus for the unveiling of a bust of the great chief justice. Two dormitories were built, providing the first campus housing for men, and the Albert Gallatin Jenkins Laboratory School was constructed as a model school for the College of Education."
There is even a book about our school which can be ordered at:
http://www.cardcow.com/274083/marshall-college-huntington-west-virginia/